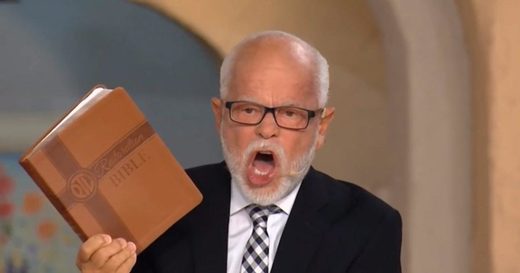 Three decades after his PTL empire near Charlotte crumbled amid financial and sex scandals, Jim Bakker is back on TV with a different, darker message:
The Apocalypse is coming and you better get ready.
Ready to be judged by God, sure. But the main mission of "The Jim Bakker Show" - broadcast from a Christian compound deep in the Ozark Mountains of Missouri -
appears to be to sell you fuel-less generators, doomsday guidebooks and freeze-dried food with a shelf-life of up to 30 years.
Bakker, whose co-host is second wife Lori, says stocking up on such survivalist merchandise could keep you alive amid the catastrophes - earthquakes, hurricanes, war, famine - that some Christians believe are signs that End Times are near.
"Stayin' alive, stayin' alive, ah, ah, ah, ah," Bakker's daughter, Tammy Sue, now 47, sang on one show as her dad promoted buckets of long-lasting emergency food. That day's "Staying Alive" special: Ten buckets, with 2,410 servings, for a $600 donation plus shipping.
"We are in the final days" is Bakker's refrain as he points a warning finger at Hurricanes Harvey and Maria and to recent talk of nuclear war with North Korea.
Now 78, with a white beard, Bakker is no longer the sunny, baby-faced preacher who co-hosted "The PTL Club" in the 1970s and '80s with then-wife Tammy. She did the singing back then, often while shedding happy, mascara-tinged tears about Jesus.
Together, Jim and Tammy built Heritage USA, a 2,300-acre Christian theme park and resort that drew nearly 6 million visitors at its peak in 1986. Their flock came to the Fort Mill, S.C., campus to splash in the water park, pray in a stone-faced Upper Room meant to suggest the site of Jesus' Last Supper, and cheer on televangelism's most famous couple as they taped their TV talk show.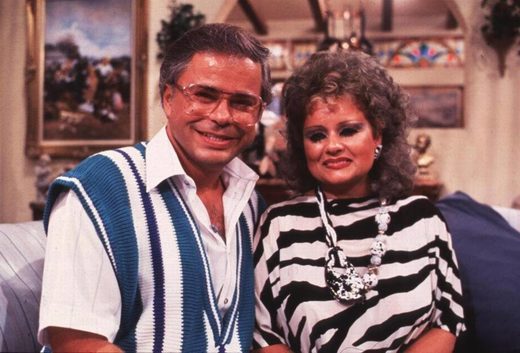 PTL was short for "Praise the Lord," though critics of the Bakkers' opulent lifestyle - they bought vacation homes, high-priced cars, even an air-conditioning unit for their doghouse - suggested it should stand for "Pass the Loot."
Everything came tumbling down in 1987, amid revelations that Bakker had had a 15-minute tryst and paid hush money to a young church secretary named
Jessica Hahn
. He later served in federal prison for nearly five years for PTL-related fraud.
More than 30 years after the fall of PTL, public records indicate that unpaid IRS tax liens against Bakker or against him and Tammy, who died in 2007, still add up to at least $5.5 million.
The question now:
Has Bakker repented and found a genuine calling to help Christians prepare for the end times forecast in the Bible? Or is he stoking 21st-century fears - terrorism, climate change, war - to make money?
Answer that at your own risk, Bakker tells viewers:
"One day you're going to shake your fist in God's face and you're going to say, 'God, why didn't you warn me?' He's going to say, 'You sat there and you made fun of Jim Bakker all those years. I warned you. But you didn't listen.' "
Changing with the times
Mark Graham calls Bakker the real deal, a man of God who has disowned the Prosperity Gospel - the idea that God rewards faith with wealth and other blessings - that he preached and lived at PTL.
"Jim lost everything, and then he came back," said Graham, Bakker's brother-in-law and executive vice president for retreat services at Morningside Church, Bakker's ministry and where he tapes his show. "All he wants to do is get the message of salvation out there. And keep people alive."
That's why "The Jim Bakker Show" sells "practical things," Graham said. Like generators and food for a future in which the power grid collapses and grocery shelves go empty.
John Wigger, author of a new book called "PTL: The Rise and Fall of Jim and Tammy Faye Bakker's Evangelical Empire," argues that the savvy Bakker is changing with the times to tap into new opportunities.
"The Prosperity Gospel, with all its glitz and money, fit the culture of the 1980s and Jim found that was a very successful component of his message," said Wigger, a professor of history at the University of Missouri. "In this post-9/11 era, he's found that the Apocalypse and survivalism make for a very compelling message that will also gain him an audience."
How's Bakker's show doing? Hard to say. His daily hour-long show from Missouri is carried via satellite on various Christian TV channels - Daystar, Angel One, the Word Network - and on a dozen or so local stations (though none in Charlotte). But there are no Nielsen ratings for Christian television.
Just as elusive: Information about how much money Bakker's ministry brings in, how much it spends and how much he and his wife are paid.
Since Morningside is registered as a church, it isn't required to file financial information with the IRS.
But many faith-based nonprofits - including the Charlotte-based Billy Graham Evangelistic Association - do include financial details on their websites. Bakker's ministry doesn't.
Mark Graham said Bakker would not be available for an interview with the Observer.
From puppets to PTL
In its heyday - the early to mid-1980s - PTL's Heritage USA was a magnet for fervent Christians looking to combine faith and fun.
The airwaves back then were filled with televangelists - Oral Roberts, Jimmy Swaggart, Jerry Falwell, Pat Robertson. The Bakkers, who were Pentecostals, started their TV evangelism careers as hosts of a children's puppet show on Robertson's Christian Broadcasting Network. Later, on their own show, they paired church with pop culture. Their plan: Offer a Christian version of "The Tonight Show with Johnny Carson."
At Heritage, families could enjoy the $12 million water park, with its state-of-the-art wave pool and Typhoon Slide. Or take in the nightly Passion Play, complete with live camels. Or ride the steam train.
Inside the Heritage Grand Hotel was a pretend Main Street, with a two-block-long domed ceiling that suggested permanent blue skies. In the shops along Main, people could buy palm-size Jesus dolls, 24-carat gold crosses and "Heavenly Fudge."
From their tinted-window penthouse above, Jim and Tammy would sometimes wave at the shoppers, occasionally accompanied by celebrities such as singing cowgirl Dale Evans and Efrem Zimbalist Jr., star of TV's "The FBI."
Audiences also flocked to Fort Mill to be part of the studio audience for the Bakkers' "Jim and Tammy" show, which featured an hour of music, prayer, pleas for donations and chit-chat with guests such as Billy Graham, Colonel Sanders, Little Richard, Mickey Rooney and Mr. T.
In 1980, an election year, Jim Bakker flew on Air Force One with then-President Jimmy Carter, a Democrat, and interviewed his Republican challenger, Ronald Reagan.
Some people so loved the atmosphere at PTL - part Christian Disneyland, part Bible-inspired retreat - that they moved into one of the surrounding subdivisions, with their $380-per month apartments, $60,000 duplexes and $100,000 homes.
Resident Archie Fowler, speaking to an Associated Press reporter in 1985, called his Heritage USA house "heaven on earth. ... The Lord led me here."
'Wickedly manipulated'
But behind the scenes, well before its fall,
PTL was also a piggy bank for the Bakkers
. They'd ask for more money from their "partners" even as they were spending lavishly on themselves.
Between the spring of 1983 and fall of 1986, the Bakkers acquired more than $900,000 in cars (including Rolls-Royces and Mercedeses), real estate and other property, according to a 1987 story in the Observer. The same article said that, each morning, guards at the couple's lakefront home in Tega Cay washed their cars and cleaned their swimming pool.
In 1986, PTL paid Jim Bakker $265,000 in salary and $810,000 in bonuses. Tammy's compensation that year: $90,000 in salary and $270,000 in bonuses.
On March 19, 1987, Jim Bakker, then 47, resigned from PTL. His voice trembling as he spoke over the telephone to Observer reporters and editors, he said he had been "wickedly manipulated by treacherous friends" who "conspired to betray me into a (1980) sexual encounter" with Jessica Hahn, though he did not use her name. Bakker turned over the reins of PTL to Baptist preacher Falwell.
Jim and Tammy Bakker said their goodbyes to PTL viewers four days later.
"We don't know what the future holds," Jim said, speaking from one of their homes. "But I can assure you: Jim and Tammy someday will be helping people again."
'I Was Wrong'
The next several years were stormy ones for Bakker.
He was dismissed as a minister in the Assemblies of God denomination.
In 1989, he was tried in federal court on 24 counts of fraud and conspiracy.
The prosecution said Bakker had diverted millions of dollars to pay for his and Tammy's grandiose lifestyle. The government also said that he had bilked nearly 160,000 PTL Lifetime Partner
s, each of whom paid $1,000 for a free room in the 500-room Heritage Grand Hotel for three nights a year for life - a promise Bakker didn't have enough rooms to keep.
The trial was postponed for a week after Bakker had a panic attack upon being taken into custody. "Please don't do this to me," he sobbed in his lawyer's office as federal authorities placed chains around his waist and feet.
Bakker was
convicted on all charges
and served nearly five years in prison. There, on what he later wrote was his worst day, he wept after finding out - from his son, Jay - that Tammy was divorcing him after 30 years to marry Roe Messner, his best friend and the contractor who built Heritage USA.
By 1996, Bakker had written a book called "I Was Wrong." In its pages, he seemed to swear off the pursuit of money. He wrote that, in prison, he'd become "physically nauseated" when his deeper study of Jesus' words about wealth convinced him that he had been "contradicting Christ."
Two years later, Bakker had found a new life.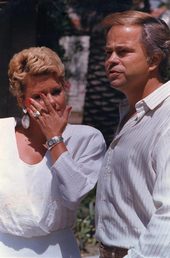 'God loves you'
In July 1998, Bakker met Lori Graham at an inner-city church in Los Angeles where they'd both come to minister, according to her biography on "The Jim Bakker Show" website. She was 18 years younger than Bakker. In September of that year, the two wed at the home of friends in Burbank, Calif. Everything was donated, including the wedding gown. That's because the bride and groom were both broke, Lori Bakker told the Observer in a 2000 interview.
It was her second marriage, too. She told the Observer then that her first husband, whom she married at 17, beat her. According to her biography on "The Jim Bakker Show" website, Lori Beth Graham Bakker was raised in Phoenix, spent her teens partying and taking drugs, and had had five abortions by her 22nd birthday.
But, after turning her life over to Christ, the bio says, she started an organization in 1994 called Mourning to Joy Ministry for women dealing with past abortions.
In 2002, Lori and Jim Bakker got legal custody of and agreed to raise five children, all siblings, from Phoenix.
A year later, "The Jim Bakker Show," with Lori as co-host, debuted.
At first, they broadcast from the Studio City Café, a restaurant in Branson, Mo., that was converted into a TV studio. The millionaire who made it happen was developer Jerry Crawford, a one-time PTL Partner who credited Bakker and PTL for saving his marriage years before, according to "The Jim Bakker Show" website.
By 2008, the Bakkers had moved their TV ministry to Blue Eye, a rural town of about 170 people a mile north of the Arkansas line. Crawford paid a reported $17 million to buy the 800-acre property and construct Morningside's main building, with more than 100 condos.
Since then, Bakker's Morningside Church has bought nearly 500 acres of the property from Crawford,
said Mark Graham.
A tour of the place reveals that, for all the differences between Bakker's past and present, there are striking similarities and throwbacks, too.
Take the building where he and Lori usually tape their show. Inside and out,
Morningside Church looks like a smaller version of the Heritage Grand Hotel.
(It has about 160 employees; PTL had more than 2,000.)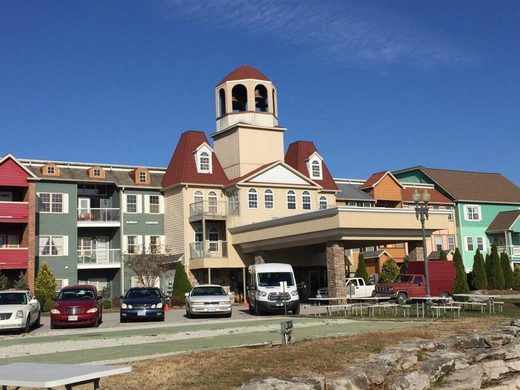 The hub of Morningside is Grace Street. Like PTL's Main Street, it's a faux town square with vintage-looking street lamps and old-timey-looking shops (like Grace Street Creamery and Morningside Beauty Salon). One addition: A 15-foot statue of Jesus.
A wooden plaque near the entrance of Morningside Church spells out Bakker's signature line from the PTL years: "God loves you, He really does."
On his show now, "Pastor Jim," as he's called these days, still signs off with that blessing.
Another echo of PTL: A short hike from Grace Street, on Peace in the Valley Lane, is Lori's House, a home for unwed mothers named for Bakker's wife and co-host. PTL had such a home, too.
Pancakes and beans
"The Jim Bakker Show" begins with a snappy piano riff and a breathless intro, sometimes from daughter Tammy Sue.
The stage is often adorned with buckets of food - including "Tasty Pantry Deluxe Bucket" (with buttermilk pancakes, black bean burgers and much more) and "Fiesta Pail" (with 100 Mexican food favorites like refried beans and taco-flavored vegetarian meat substitute). They're all produced by Augason Farms in Salt Lake City, and Bakker will often lift one of the buckets on-air during his segues from prophet to pitchman.
Since Morningside Church is registered as a nonprofit, the show doesn't technically
sell
the food and most of its other merchandise. Instead, it agrees to send these products for specific donations.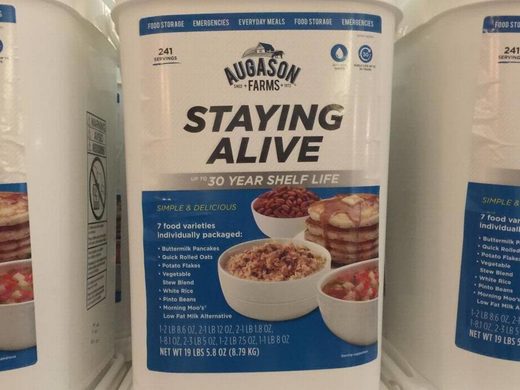 The studio audience is much smaller than the one at Heritage USA. At Morningside, maybe 100 show up.
What they and viewers at home witness is a Christian talk show on which Bakker and his guests seek to give a biblical, often apocalyptic, interpretation to what's going on in the world.
Citing New Testament passages, which sometimes appear at the bottom of the screen, the show's panel tends to focus on what Jesus, in some versions of the Bible, called the Great Tribulation that will happen prior to his Second Coming.
A sampling:
▪ On a show last September, as the people of Houston were coping with the catastrophe caused by Hurricane Harvey, Bakker said that "this flood is from God. It's a judgment on America somehow."
▪ Sadhu Sudar Selvaraj, a former Hindu who converted to Christianity, told Bakker and his audience last December that Jesus had appeared to him to say that Pope Francis is the "False Prophet" mentioned in the Bible's Book of Revelation.
▪ Bakker said that God willed Republican Donald Trump's election as president. "This was a miracle, not by man - God called them to do it."
▪ Bakker even saw God's divine hand in Democratic candidate Hillary Clinton's physical collapse, because of illness, just after she attended a 9/11 memorial in New York City. "9/11 was probably the most stern warning God ever gave to America," Bakker said on his show. "There's a collapse coming that's much bigger than (Clinton's) collapse. ... It's time to be ready."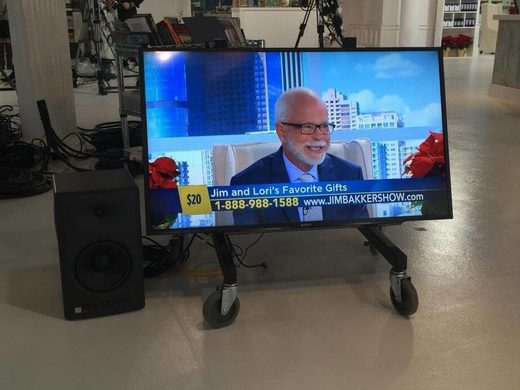 'What man hasn't fallen?'
To help you get ready, Bakker launched a second venture on Cyber Monday last November: A faith-based home shopping network that's also based at Morningside. It, too, has survivalist supplies, ranging from 21-Day Detox Packages to 4-Way Powered Emergency Radios.
They're calling the new TV/online store "PTL Shop."
Bakker's books, including "Prosperity and the Coming Apocalypse," are sold at Morningside's General Store, where cashier Bonnie Byram, 67, who moved from Tennessee a few months ago, counts herself a Bakker admirer.
Yes, she said, he made mistakes during his time at PTL. "But what man hasn't fallen? We've all done things that are wrong, but they're not exposed," she said. "He's trying to get people ready. Whether you believe it or not, these things are in the Bible and they're going to happen."
The biography on Bakker's show's website casts him as a "pioneer of Christian television" and says he birthed "one of the most dynamic ministries the world has ever known" in the PTL Club and Heritage USA.
His misdeeds at PTL are mostly reduced to one: His sexual encounter with Jessica Hahn. Bakker resigned as president of PTL, the bio says, "after a moral indiscretion he had committed seven years earlier that was brought to the public's attention."
Some noted conservative Christians see Bakker's return to TV as a hopeful story worthy of the Gospels.
"Jim Bakker's comeback - and makeover as a prophetic sentinel for the end-times church - should inspire us all that God is bigger than our mistakes," wrote Steve Strang, founder of Charisma magazine, in a 2016 cover story on Bakker.
Seconding that argument: former Arkansas Gov. Mike Huckabee, a one-time Baptist preacher who ran twice for the Republican presidential nomination. "After a rough and rocky period in his life ... he has remained faithful to God," Huckabee told Charisma. "(Now) he is being used in what might be his most effective days of ministry."
Others see Bakker's trajectory as little more than a return to his old ways of asking for cash.
Hahn, who now lives with her husband, Frank Lloyd, and their animals on a ranch outside Los Angeles, tuned in to one of Bakker's shows last year and said she came away feeling sad.
When she was a church secretary in her 20s, she looked up to Bakker. To her then, he was like a Christian version of a rock star.
"I used to listen to him all the time. Way, way long ago. And it was some of the best preaching I've ever heard," she said.
"But now ... it's all sell, sell, sell."
'Nothing to hide'
And it's difficult from the outside to tell how much money comes in and where it goes.
Bakker's ministry - Morningside Church, Inc. - is not a member of the Evangelical Council for Financial Accountability. The Virginia-based ECFA is an accreditation agency that asks its 2,222 member churches and Christian nonprofits to adhere to standards on issues such as financial transparency and governance.
Charles Shepard, a former investigative reporter who anchored the Observer's
Pulitzer Prize-winning coverage of PTL
in the 1980s, isn't convinced Bakker has learned the hard lessons of those years. "If he were someone who had really seen the light," Shepard said in a recent interview,
"then he would be forthcoming about ... revenues and even his compensation."
But Bakker brother-in-law Graham, who's in charge of all the public spaces on the Morningside Church property, including the stores and restaurants, said those who need to know about the ministry's finances do.
"We're transparent with the IRS and the government," he said "(And) our partners trust that their money is going to be used for what they designated it for."
Papers filed with the Missouri Secretary of State's office say Morningside Church, Inc., is a nonprofit corporation, with Jim O. Bakker as its president. But at least four for-profit businesses are also run from Morningside, according to separate filings. Instead of Bakker, who still owes back taxes, these companies list other family members - wife Lori; daughter Maricela; and Graham, who is Lori's brother - as president.
"We have nothing to hide," said Graham.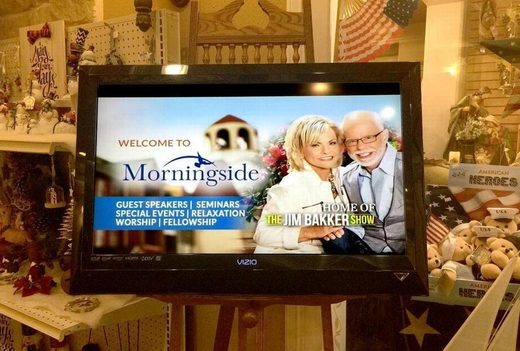 'What are you going to do?'
In late November, the set of "The Jim Bakker Show" was decorated with poinsettias, gold and green ornaments, and snowy-looking Christmas trees.
Minutes into the hour-long talk show, though, Jim and Lori Bakker shifted from Christmas cheer to discussing potential dangers in the world.
"Even though this is Christmas-time and we're celebrating the birth of Jesus and all of that, life still goes on," she said. "There's still warfare in the world."
Bakker warned that Jesus' birthday could bring nightmarish news.
"People want to do bad things on holidays," said Bakker. "The ISIS plan is to kill the pope this Christmas. ... And others want to drop a bomb on the United States at this time."
Enter guest Peter Vincent Pry, who was there to talk about how North Korea could decide to blow up a nuclear warhead above the continental United States. One such bomb, said Pry, author of books about such electromagnetic pulse (EMP) attacks, would "collapse the electric grid, stop communications, cause cars to stop (and) airplanes to crash out of the sky."
Surrounded by survivalist merchandise up for sale, Bakker posed a question to viewers: If you don't have power, what are you going to do?
His answer: Get a "Complete Fuel-less Generator" from "The Jim Bakker Show" for a donation of $4,100.
The few generators still in stock, he said, have been "reduced ... to their lowest possible price." In fact, Bakker told his audience, the show may have lost money on some of its recent "Christmas specials."
But that's OK, he added, turning to Lori, "We're investing in people's survival."
She nodded: "Yes, we are."