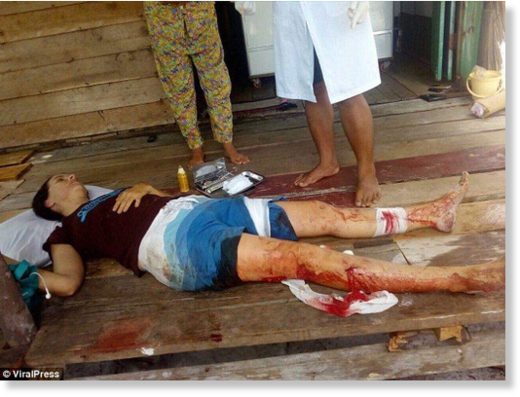 This is the moment a British teacher was left with blood gushing from her legs after being viciously attacked by a rampaging buffalo.
Fiona Childs, 47, had been walking through a forest, heading for the beach while holidaying on the Cambodian island of Koh Rong Samloem yesterday morning, when she suddenly came face-to-face with the angry beast.

The enraged animal immediately started butting her with his head, and is believed to have gored her legs with his sharp horns as she lay screaming for help on the ground.
The creature then fled back into the jungle.
As the buffalo's owner shouted at army officials to 'kill, kill, kill' the beast, local villagers rushed to Fiona's aid, trying to stem the blood before paramedics arrived and loaded her into an ambulance.
Fiona was rushed to hospital in Sihanoukville, a coastal city on the mainland.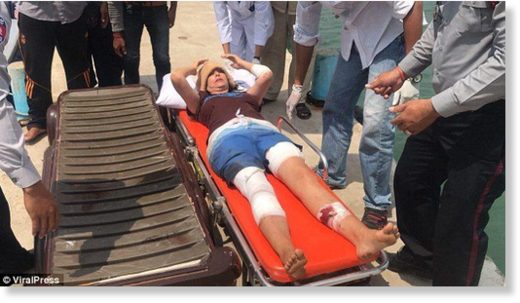 She suffered injuries to both her shins and her thighs, which police believe were sustained as she lay on the ground and tried to kick the beast - which can weigh hundreds of kilograms - away.
Nop Panha, deputy police chief of Preah Sihanouk province, said: 'The victim was a British woman. She was seriously injured and sent to hospital in Sihanoukville.'
A hunt was launched to track down the buffalo, after it dashed into a nearby forest, with police officers working alongside military forces stationed on Koh Rong Samloem to search for the beast.
Police and army officers managed to track down the runaway buffalo late last night, and confirmed that it had escaped from a nearby farm.
The animal's owner has since agreed to cover Fiona's medical expenses and offered to let soldiers shoot the buffalo. It is not yet known if Fiona had been alone at the time of the attack or accompanied by others.
According to expats in the region, the animal was a male water buffalo that had been wandering around the jungle and beach for some two weeks,
and had charged at locals just ten days ago.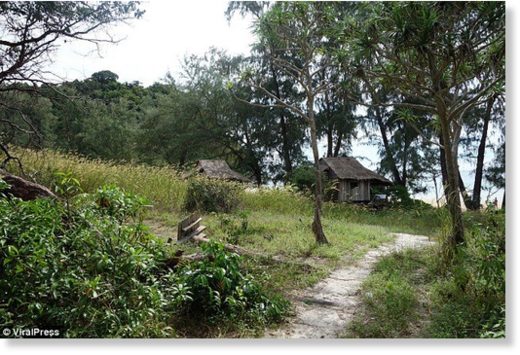 Fiona arrived in Cambodia's capital city, Phnom Penh, on Saturday February 17, for a holiday from her job at the St. Andrews International School near Bangkok, Thailand, where she works as a reception class teacher.
After making a four-hour car journey to the coast before travelling to the idyllic island, Fiona had been walking through woodland, headed for the beach, when she was attacked at around 10.20am on a sandy footpath.
While normally placid, water buffalo can become incredibly aggressive if provoked or if they are protecting their young.
Army General Lok Chum Neang told local media that he had spoken with the buffalo's owner who told him that this particular animal was one 'he could not manage' and asked the army to 'kill, kill, kill' the creature.
It remains unclear whether the buffalo has since been put down.