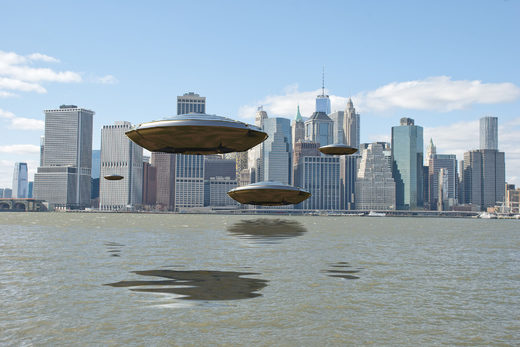 Houston Street, we have a problem.
Manhattan has gone from Studio 54 to Area 51, leading the five boroughs in sightings of unidentified flying objects over the last two years, data from the National UFO Reporting Center reveals.
Otherworldly tourists have included travelers in a "round orange orb," a crew in a "cigar-shaped" craft and even "an unknown creature" that rudely "teleported" into one New Yorker's back yard, according to reports made to the Washington-based group.
One Manhattan true believer claimed a close encounter - just by looking outside the gym window.
"It was rotating like a drill as it was also moving off axis and in a line towards the east," the person explained. "As it rotated, you would be able to see four lights that would only be on one side and seen after it fully rotated. It has to be hundreds of feet long. Then after it appeared, four other smaller craft appeared that were to me saucer or spherical that blipped in and out."
In all, there have been 27 spacey sightings in Manhattan since 2016, with Brooklynites close behind, reporting 24 strange objects - from a "very bright, round-shaped light in the sky" to a "fireball" of lights.
Queens denizens described 20 unexplained episodes, with a particularly impressive arrival last June.
"Group of about 7 UFOs, with a leader to the side, and a cluster to its north," one witness reported.
Just eight mysterious incidents originated out of the Bronx, while Staten Island residents got interstellar a paltry six times.
"Surprised a UFO that was hovering silently above me, then it shot away," one Staten Islander shrugged last January.
The reports include time and general place of occurrence, but can be painfully short of detail. Last May 3, someone in Brooklyn simply reported, "UFO."
The center's director is confident that the truth is out there.
"Do I believe in UFOs? I absolutely believe . . . I believe what the data says," Peter Davenport insisted. "Read the cases and you come to the realization that these objects we've been calling UFOs for 70 years are being seen across the country and around the world on a daily basis."
The most common claim the center receives is "lights in the sky that they can't identify." Davenport noted that, since May 2012, "we started seeing a type of report of clusters of red, orange, amber, yellow or gold lights."
"Good photos, reliable photos" of UFOs are "scarce" because people have just seconds to capture "objects capable of moving at tremendous speeds," he explained.
The group says it has catalogued more than 128,000 mysterious sightings worldwide since 1974, with most in the United States - 13,033 - originating in California. New York has collected just 4,500 in that time.
"There's this sense that this is New York . . . there can't be a UFO," Davenport said. "Or they just don't want to get involved."