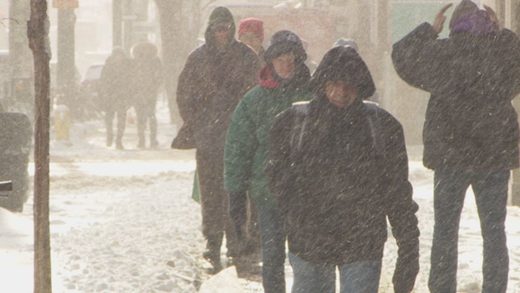 In three related articles from CBC News this week, Canadians across the country are experiencing powerful storms, record cold temperatures, and extreme winter conditions during the Christmas holiday.
The first comes from the province of Nova Scotia on the east coast, where a
powerful windstorm
on Christmas Day knocked out power for tens of thousands of people.
A storm knocked out power to tens of thousands of Nova Scotians on Christmas Day as high winds blew trees onto power lines and broke utility poles.

By mid-morning on Tuesday, about 50,000 Nova Scotia Power customers were without electricity, down from about 90,000 at the peak of outages at 9 p.m. on Monday. [...]

Environment Canada had issued wind warnings for the entire province on Monday, cautioning of gusts up to 110 km/hr.
The second concerns Canada's largest city, Toronto, where an
extreme cold weather alert
has been issued by city officials, warning boxing day shoppers to prepare for bitterly cold temperatures.
People heading out for Boxing Day deals should bundle up as temperatures are expected to reach -11 C in Toronto with a wind chill of -22 C.

The city remains under an extreme cold weather alert that was issued yesterday. Extreme cold weather alerts are typically issued when temperatures reach -15 C or colder or a wind chill of -20 C or colder.

This afternoon, temperatures are expected to warm up slightly to -10 C and a wind chill of -20 C.

The city recommends that people heading out in the cold weather dress in layers, cover exposed skin and stay dry.
And in the last story, the city of Winnipeg, in the western province of Manitoba, broke a
20 year old low temperature record
as the coldest Christmas morning since 1996.
Winnipeg awoke to its coldest Christmas morning in two decades, as the overnight temperature plummeted to - 30.1 C as of 5 a.m., according to Environment Canada.

The high for Christmas Day is forecast to be - 23 C. That's about 11 degrees colder than the average high for Dec. 25 — and the coldest Christmas morning since 1996, when the morning low was - 34.6 C.

The Manitoba capital is not the most frigid place in Canada today, let alone on the Prairies.

Both Regina and Saskatoon awoke to temperatures close to - 30 C, while Fort Vermilion in Alberta's Peace River district dipped below - 40 C on Monday morning, according to Environment Canada.