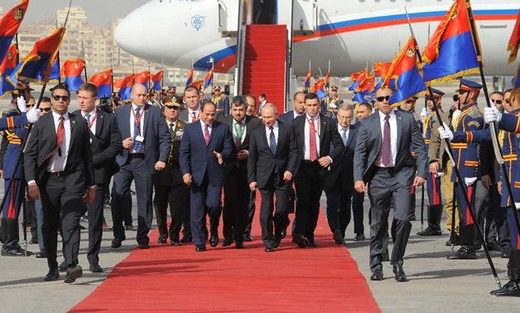 In the aftermath of the 'Arab Spring' in 2011, which saw the overthrow of the Egyptian government, followed by a counter-coup in 2013, president Abdel Fattah al-Sisi sharply pivoted Egypt's international outlook away from America and towards Russia. Since then, Russian-Egyptian relations have reached a level not seen since the 1970s.
Throughout, pro-government Egyptian media regularly accused Barack Hussein Obama of siding with deposed Islamist president Mohammed Morsi's now-banned Muslim Brotherhood group. And all the while, Egypt has also seen a huge spike in terror attacks, with 'ISIS' promising more to come.
One naturally wonders, is there a correlation between 'the political' and 'the terror'? The answer is, of course there is.
The nexus is writ large everywhere once you see it. Earlier this year, newly sworn-in Philippines president Rodrigo Duterte was literally in Moscow meeting Putin to discuss refitting his country's military with Russian hardware when
'ISIS' sprang out of nowhere
to take a major city in Mindanao hostage. Around the same time, the British establishment's preferred choice was facing defeat in the polls until
'ISIS' rode in to save the day
for Her Majesty's Secret Services.
Egypt and Russia join forces in the Middle East
President al-Sisi, who as defense minister led the overthrow of Morsi and was elected president the following year, has already visited Russia twice, and has struck deals to buy billions of dollars' worth of military hardware, including helicopter gunships and fighter jets. Today's
visit by Putin to Egypt
- for a meeting at El-Ittihadya Palace in Heliopolis, eastern Cairo - is
his
second visit to the ancient capital, in part to cement an agreement that will deliver Egypt its first nuclear power plant. RT
reports
on what they discussed:
The presidents plan to discuss economy, energy, politics, as well as the possibility of resuming air travel between Russia and Egypt, suspended in November 2015 after a terrorist attack resulted in a crash of a Russian passenger jet over Sinai.

"I am pleased to note that our economic links are developing at a fairly high pace, and we really have a lot of good projects ahead," Putin said.

"Since the 1950s and 60s, Russia has always supported Egypt and still supports our country: both metallurgical plants and the construction of the Aswan dam, and today we will sign a contract for the construction of a nuclear power plant," al-Sisi replied.

Through September, trade between Russia and Egypt increased 48 percent compared to the same period last year and exceeded $4 billion.
Meanwhile, as Egypt developed relations with Russia, the scourge of terrorism worsened. Since the Muslim Brotherhood and Morsi were ousted in the 2013 counter-coup, Egypt has
witnessed
- wait for it -
1,700 terror attacks
, with the most recent being the heinous massacre of 305 worshipers
at a Sinai mosque on November 24th
.
And now 'intelligence reports' hint that ISIS will
soon escalate attacks
in both Egypt and Libya:
Reports by both intelligence authorities from various countries and pro-ISIS social media sources all point towards the imminent advent of major offensive operations by Islamic State forces in Libya and Egypt.

Such conclusions are being reached at a time when it has become apparent that the terrorist group plans to compensate for its total defeat in Syria and Iraq by establishing a new empire in North Africa.
There have been signs before now that terrorist-mercenary forces are
regrouping in Libya
. It's well-known that the US is paranoid about
the Russians teaming up with the Egyptians
to do something about the mess the US and EU created in Libya.
We know that ISIS and related terror and 'opposition' groups have been
sheltered by Western and Israeli security services
. And it is surely no coincidence that, once the writing was on the wall for ISIS in Syria, the
US
and
Israel
began directly bombing Syrian forces. And now, with Trump recognizing Jerusalem as Israel's capital, a new chapter of Middle Eastern mayhem has begun (maybe).
But as Putin
said in Syria today
- on his way to Cairo - regarding the destruction of ISIS in Syria,
"If the terrorists again raise their heads, we will deal such blows to them they have never seen.
" With the man's track record and his intention to run again for president in 2018, one tends to believes that he intends to honor his word.
Russia, Egypt and the Conflict over Jerusalem
Trump's shock decision has been condemned by the EU and most world leaders, but
Israeli media
reports allege that Saudi Arabia and Egypt are privately backing the US move, and that their public outrage has just been for show. If nothing else, the renewed global attention on the stalled (read: ossified) 'peace process' means that the media spotlight is back on Israel, which can only be a good thing in terms of minimizing its relish for cruelty towards Palestinians.
Curiously, al-Sisi also
invited Palestinian Authority President Mahmoud Abbas
to Cairo today. So Putin isn't in Egypt only to discuss trade and terrorism. About this, Egypt Today
reports
:
Egyptian President Abdel Fatah al-Sisi is expected to hold two important summits on Monday in Cairo as he will meet with Russian President Vladimir Putin and Palestinian President Mahmoud Abbas amid recent developments in the Middle East.

The most significant developments that President Sisi will discuss with his Russian and Palestinian counterparts are the American recognition of Jerusalem as Israel's capital and the death of Yemeni former President Ali Abdallah Saleh by Iran-backed Houthi militias.
So here we have a meeting in Egypt between Egyptian, Russian, and Palestinian officials while the world condemns Trump and, by extension, Israel. Putin has since
flown on to Ankara
, Turkey, where he this evening issued
a joint statement with Erdogan condemning Trump's decision as "
destabilizing for the Middle East.
"
While the ever-delusional Nikki Haley
claims
that only America has the 'credibility' required to mediate conflict in the Middle East, Russia and her allies are clearly taking the lead. In its bungled attempts to subjugate its regional 'allies',
the US deep state is steadily alienating itself and losing sight of the hegemony it craves.
If ever there were a time to forge ahead with
actually
mediating conflict in the Middle East, now is it - and if ever there were a statesman capable of doing it, Putin is it.
Cometh the hour...