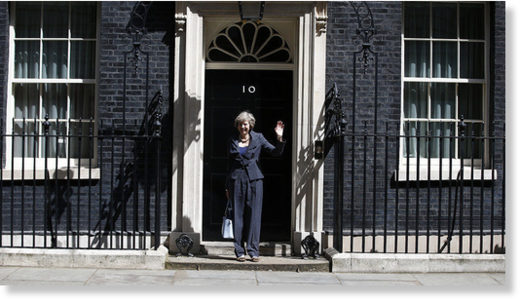 British intelligence has
allegedly
foiled a terrorist plot to assassinate Prime Minister Theresa May, one of nine terrorist schemes thwarted so far by UK spies in 2017, local media report.
Two men were
arrested
last week for plotting terrorist atrocities in the UK, British news outlets reported Tuesday. Naa'imur Zakariyah Rahman, 20, from north London, and Mohammed Aqib Imran, 21, from Birmingham, were apprehended during security raids and charged with preparing and assisting in acts of terrorism. They are due to appear before the Westminster Magistrates court Wednesday.
While no initial information about the alleged plot conceived by the two men was made public, a number of British media outlets reported that the suspects planned to assassinate the British PM at her residence at 10 Downing Street.
The planned attack was
reportedly
revealed by Andrew Parker, head of the United Kingdom's domestic counterintelligence and security agency (MI5), who briefed Cabinet ministers in London.

Comment: Excuse us if we're somewhat skeptical about this 'alleged plot'. Given that Western intelligence agencies desperately need a terror threat to justify their expanding reach and influence over the lives of Western populations, there seems to be a clear conflict of interest when MI5 reports the existence of such a plot and that they 'foiled' it.


The suspects allegedly planned to detonate a homemade improvised explosive device at Downing Street before storming the building to assassinate May. The plot was foiled thanks to the joint efforts of Scotland Yard, MI5, and West Midlands Police, which have pursued the suspects
"over several weeks,"
according
to Sky News.

Comment: This scenario is highly implausible. Downing street is one of the most heavily guarded places in the UK, especially in the aftermath of car and knife attack near the houses of Parliament earlier this year. The idea that some jihadis would be able to access the gated Downing street, plant a bomb and then 'storm the building' is, frankly, laughable.


The alleged plot to kill May is just one of the nine deadly schemes that British intelligence had
reportedly
scuppered in the past 12 months, Parker told the PM and her senior ministers Tuesday, the prime minister's official spokesman said after the meeting.
"Mr. Parker said that nine terrorist attacks had been prevented in the past year,"
the spokesman
said
.
"There have been five attacks that have got through, four of which are related to Islamist terrorism."
Parker also warned the ministers that the threat from Islamic State (IS, formerly ISIS) is still very real despite the terrorist group's demise in Iraq and Syria. The danger, MI5 believes,
"has spread into new areas, including trying to encourage attacks in the UK and elsewhere via propaganda on social media."

Comment: Does this not smack of fear-mongering by the MI5 chief? Designed specifically to keep politicians on edge and more likely to rubber stamp any activities that the intelligence agencies deem 'necessary' to protect them. It's like a mafia intimidation scheme.


Parker's disclosure came hours after the publication of an independent assessment by David Anderson QC, which examined the handling of intelligence by police and security officials leading up to four Islamist-linked attacks in the UK from March to June that left a total of 36 people dead.