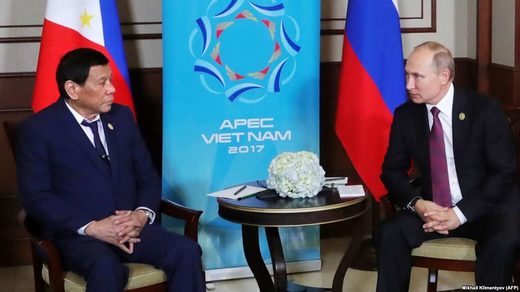 While addressing journalists, Duterte said that Russia helped Philippines where the US failed. Putin in turn praised Duterte's leadership.
Philippines President Rodrigo Duterte has met with Russian President Vladimir Putin on the sidelines of the Asia-Pacific Economic Cooperation (APEC) conference in Vietnam.
During a brief statement before the press, Duterte expressed his gratitude to Russia for delivering free shipments of arms to the country.
Duterte stated that he seeks to build a strong armed forces and police as part of his extended legacy to the nation and that Philippines looks increasingly to Russia to purchase modern weapons in order to assure the domestic peace against both terrorists and drug lords.
Rodrigo Duterte then took aim at the United States saying that initially Philippines sought to purchase new weapons from Washington but that "because of the almost equal power of the US Congress and President, our order was scrapped and your assistance helped us to complete the order".
The President of Philippines continued, saying,
"In a way you helped us turn the tide...because of your assistance...so again I thank you very much and the Russian people...we will remember you for all time".
President Putin responded by saying that over and above the new weapons it was Duterte's "decisive posture and readiness of the (Philippines) armed forces" which helped to win the Battle of Marawi against the ISIS-Maute Group.
This is second time that Duterte has met with Putin. The first was in May of this year. It was during Duterte's previous meeting with Putin in Moscow, that ISIS-Maute terrorists began their assault on the southern Philippine city of Marawi, in a clear attempt to show the limitations of a would-be Russia-Philippines partnership.
Duterte however has proved the terrorists wrong as Russia and Philippines look to only expand their partnership in both security and defence sectors as well as in commercial trade.