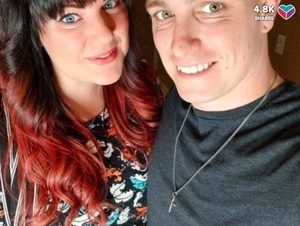 About a week after surviving the mass shooting at the Route 91 Harvest Festival in Las Vegas, Kymberley Suchomel has died.
Suchomel, 28, who was not injured during last week's shooting, died early Monday at her Apple Valley home, according to her grandmother, Julie Norton, the co-founder of the High Desert Phoenix Foundation.
Norton found Suchomel just after 8:30 a.m. when she arrived to care for her 3-year-old great-granddaughter, Scarlett.
She believes Suchomel may have died in her sleep
after her husband, Mike, left for work at 4:30 a.m.
"Kymberley had epilepsy and she's always been prone to seizures - she told her friend that she recently had three focal seizures," Norton told the Daily Press. "I believe the stress from the shooting took her life."
Days after the shooting, Suchomel explained to the
Victorville Daily Press
how she and her friends escaped with their lives as a gunman, perched from a hotel suite on the 32nd floor of the Mandalay Bay Resort and Casino, opened fire on some 20,000 concertgoers on Oct. 1.
With 58 people killed by the gunman and nearly 500 wounded, the Las Vegas event is the deadliest mass shooting in modern U.S. history.
"That was the night that my life, and the lives of my friends, and so many others were changed forever," Suchomel told the
Daily Press
the day after the shooting. "I might have escaped unharmed, but I know that I've been emotionally and mentally scarred for life."
Suchomel, who was
taking medication for a pituitary tumor
, shared her fear of trying to fall sleep at night as the "sounds of gunfire" become louder in her head and the images of "broken and bloody bodies" flashed through her mind.
She also took to Facebook to share how the "most ridiculous things," such as the sound of her alarm or loud voices, would send her heart racing in fear. She also shared how fear would sweep over her when her daughter would toss her toys, move too quickly or begin talking loudly after being quiet.
In one post, Suchomel said she overcame her fear for a moment by venturing out of her house to have lunch with her friend. She also explained how she was able to focus on the pain caused by a tattoo gun and forget the pain "caused by the horrific event..."
Suchomel's final Facebook photos are a pair of cowboy boots with an American flag and her new Harvest 91 Festival tattoo that includes the date of the shooting and the text "Country Strong."
Suchomel and Norton created the Phoenix Foundation nearly 10 years ago after family friends Bodhisattva "Bodhi" Sherzer-Potter, 16, of Helendale, and Christopher Cody Thompson, 18, of Apple Valley, were murdered in an abandoned military bunker near Helendale. Over the years, the foundation has helped many High Desert residents who have suffered a tragedy with financial help and services.
Phoenix Foundation supporter and community leader Thurston "Smitty" Smith said he was shocked by the news of Suchomel's passing.
"Kymberley was such a wonderful wife, mom and granddaughter," Smith said. "She loved life and was very instrumental in the success of the Phoenix Foundation."
Smith said he's asking the public to support and to pray for Suchomel's family, and for backers of the nonprofit to make a "large contribution" to the Phoenix Foundation.
"This family has been there for the community in good times and hard times," Smith said. "I think it's time to be there for them."
Services for Suchomel are being planned. For contribution and general information on the Phoenix Foundation, visit
www.hdphoenixfoundation.com
.