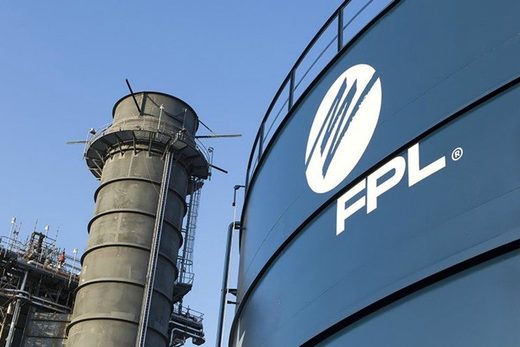 Four days after Irma, millions of Floridians are still stuck without power in the sweltering summer heat. Those outages have now killed eight elderly people trapped in a Hollywood nursing home without air conditioning, due to circumstances that FPL was
warned about
at least two days before the tragedy.
Many of those powerless residents are now asking hard questions of the area's power monopoly, which has spent millions of dollars fighting policies that would have strengthened the grid in the event of a major storm like Irma and, more broadly, stemmed the carbon-fueled climate change likely fueling monster storms.
"I am one of the many that has now been without power for more than two days as a result of Hurricane Irma," Elise McKenna, a West Palm Beach resident, told
New Times
via email. "My confusion came when so many of us lost power during the early hours of the storm that basically avoided us. We've been told time and time again that rate increases were to help prepare us for future storms."
McKenna is far from alone. FPL's workers on the ground seem to be doing all they can to fix downed lines and restore power to homes, and they deserve huge credit for working around the clock in awful conditions.
But the company's corporate and government-relations wings have serious questions to answer this week after quashing regulations that could have made the energy grid stronger at a slight expense to FPL's billion-dollar bottom line.
Hurricane Wilma, the last 'cane to hit South Florida, tore through the area in 2005 and killed power to 3.24 million of FPL's then-4.3 million customers
(75 percent of the grid)
. Many of those customers had to wait up to two weeks for power to return. Since then, the company has spent more than $2 billion
supposedly girding itself
against the next storm, according to a
Sun Sentine
l piece published before Irma hit.
But after Irma, which by most reports brought only Category 1-strength winds to South Florida, by some measures the company did even worse. Despite all of those upgrades, an even larger percentage of FPL's customer base -
4.4 of 4.9 million customers
, almost 90 percent - lost electricity this past weekend.
Granted, Wilma and Irma were different storms: Irma was larger and raked South Florida with its powerful dirty side. During Wilma, many Miamians were trapped without power for two weeks or more, and FPL promises it will fix most of Florida's east coast within a week. But the company also says harder-hit customers on the state's Gulf Coast could be out of power for 12 days or more. The same would likely have been true in Miami had Irma's eye wall churned through Dade County instead of Naples.
Even worse, some of FPL's highly touted storm-ready technology didn't work after Irma.
Before the hurricane hit, FPL directed residents to regularly check its mobile app and online service map to see if their homes had power - but on Tuesday, FPL was forced to apologize after many residents said they were either unable to access the map or were repeatedly given inaccurate information. (Two
New Times
reporters were given wrong info this week - one was told her power was back on, only to travel home and find out she was still in the dark.)
"Communication systems across Florida were impacted by Irma, causing issues with our reporting systems," FPL's website said Tuesday. "We apologize if you were provided with incorrect status updates. We ask that you please re-report your outage if your power is still out."
The fiasco, naturally, has angered some Floridians, who are already fairly ornery after being trapped in homes without air conditioning and hot water for multiple days.
"The website gives no indication as to when individuals can expect power to be restored," McKenna, the reader in West Palm, says. "Their official, blanket statement says 'end of the upcoming weekend.' How are things this bad after tropical storm winds and spotty Cat 1 gusts? FPL is not doing right by our community, and no one is doing anything about it."
On Tuesday, FPL President Eric Silagy
asked
"folks to be patient" with the company after the storm.
But many Floridians wonder if the large number of residents without power and flubbed website are just the latest signs that the company has spent way too much on lobbying and government affairs and not nearly enough on hurricane-proofing the power grids it maintains in some of the most storm-prone areas of the world.
FPL and its parent company, NextEra Energy, have for years heavily influenced state and local politics through donations, making billions in profits each year (
$1.7 billion alone in 2016
) thanks to favorable state laws that are sometimes literally written by the power company's
own lobbyists
.
FPL's lobbying wing has fought hard against letting Floridians power their own homes with solar panels. Thanks to power-company rules, it's impossible across Florida to simply buy a solar panel and power your individual home with it.
You are instead
legally mandated
to connect your panels to your local electric grid.
More egregious, FPL mandates that if the power goes out, your solar-power system must power down along with the rest of the grid, robbing potentially needy people of power during major outages.
"Renewable generator systems connected to the grid without batteries are not a standby power source during an FPL outage," the company's
solar-connection rules state
. "The system must shut down when FPL's grid shuts down in order to prevent dangerous back feed on FPL's grid. This is required to protect FPL employees who may be working on the grid."
Astoundingly, state rules also mandate that solar customers include a switch that cleanly disconnects their panels from FPL's system while keeping the rest of a home's power lines connected. But during a disaster like the aftermath of Hurricane Irma, FPL customers aren't allowed to simply flip that switch and keep their panels going. (But FPL is, however, allowed to disconnect your panels from the grid
without warning you
. The company can even put a padlock on it.)
The law winds up forcing residents to remain reliant on the state's private power companies. For now, solar-panel owners can still get something out of the law, in that the
"net-metering" provision
lets you sell excess power back to the company. The provision also lets power companies charge a $400 or $1,000 application fee for consumers who want to install systems more powerful than 10 kilowatts.
But if power companies had their way, the net-metering law would vanish tomorrow.
Both FPL and its trade association, the Edison Electric Institute, have spent millions trying to kill that net-metering law and instead win the right to charge you for installing your own solar-panel system.
In 2016, FPL spent more than $8 million on Amendment 1, a ballot initiative that industry insiders admitted was written to trick customers into
giving up their rights to solar power.
The law's language would have paved the way for Florida to kill net-metering rules.
This past April, the Energy and Policy Institute caught an FPL lobbyist straight-up drafting anti-solar laws for Fort Myers state Rep. Ray Rodrigues, who also took a $15,000 campaign contribution from FPL this year.
Thanks to power-company influence, one of America's sunniest states
lags far behind
the rest of the nation when it comes to solar adoption.
FPL has also resisted some seemingly foolproof solutions to avoid storm outages, such as burying more lines. In a city that names its sports teams for hurricanes, a huge portion of FPL's power lines still sit above-ground and get blown apart even in tropical storm conditions.
The company's stubborn stance on burying lines has been on full display in an ongoing fight over 88 miles of new power lines it wants to build connecting to the Turkey Point Nuclear Generating Station in Homestead. That battle has dragged on for the better part of this decade, all because FPL has refused to bury lines. In 2014, the energy-friendly Gov. Rick Scott said FPL could
move ahead
with the project, but local governments sued. This year, FPL and the City of Miami settled their suit, and the company agreed to bury five miles of lines as long as the city dropped the rest of its complaints. The settlement meant a different, larger stretch of lines would remain above-ground for the next
40 years.
Bigger picture, FPL has also resisted solutions that would cut down on its carbon footprint in a state disproportionately affected by sea-level-rise- and climate-change-fueled monster storms.
Instead of funneling money toward those extremely basic fixes, FPL has instead forced the public to pay for massive fossil-fuel and nuclear-energy plant upgrades. The company
hiked rates
by more than $811 million last year to build a back-up natural-gas power plant and is urging state regulators to hand the company a blank check to build two new nuclear reactors at Turkey Point. Those upgrades don't really help when power lines are blown to shreds, and both plants will end up spewing carbon pollution into the air. Hurricane Irma marks yet another moment to question whether Florida's four regulated, private power monopolies make any sense in a world threatened by climate change.
According to a March 2016 news release
announcing
a rate hike, FPL has apparently been studying the damage major storms such as Wilma and Hurricane Sandy caused to various electric grids:
FPL's updated storm hardening plan, also filed with the [Public Service Commission] today, outlines the company's 2016-2018 grid-strengthening initiatives, which build on the successes of improvements made since the program began in 2006 and incorporate lessons learned from major storms, such as 2012's Superstorm Sandy. By strengthening power lines and related infrastructure, hardening initiatives are designed to reduce outages and enable FPL to restore power for customers and help local communities recover more quickly when severe weather strikes.
But residents are now still asking why, if FPL had a decade to prepare for Irma, most of Miami's power grid went dead so quickly in Cat 1 conditions after 12 years of so-called resiliency efforts.
This past Tuesday, a
New Times
reporter toured the Little River Mobile Home Park on NW 79th Street in Miami. Peter Jean, a jovial resident who grew up in Haiti, pointed at a busted-up jumble of power lines and said that in the early hours of Sunday morning, the lines snapped and sparked a small fire in the trailer park.
"Some of us tried to call FPL," Jean said. "Nobody came. Even now, no one has come."
Jerry Iannelli is
Miami New Times'
daily-news reporter. He graduated with honors from Temple University. He then earned his master's degree in journalism from Columbia University. He moved to South Florida in 2015.