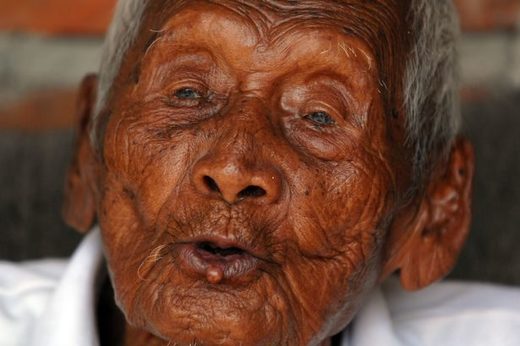 The man who at 146 years of age was assumed to be the oldest living person in Indonesia has died.
Sodimejo - also known as Mbah Gotho - from Sragen, Solo in Central Java, reportedly died on Sunday (Apr 30) after being admitted to Sragen Hospital two days ago.
Indonesia's Sambungmacan section deputy police chief Zaeni was quoted by online media as saying that the centenarian regularly received treatment at the hospital but refused to be admitted.
"He was warded at the hospital before this but insisted to be taken ... home," he said. Based on his resident identity card, Mbah Gotho, who had never suffered from any critical illness, was born in December 1870.
He had outlived his four wives and three of his children.
Mbah Gotho had said in previous interviews with local media that life is a matter of accepting your destiny. "Life is only a matter of accepting your destiny wholeheartedly," he told the Jakarta Post last year.
"I have wanted to die for a long time. My wives, children and siblings all have passed away but Gusti Allah [God] has blessed me with a long life. I have to live my life patiently and accept my destiny wholeheartedly."
His death comes just
three days after the oldest woman in Malaysia died on Friday
.
Source: Bernama/nc