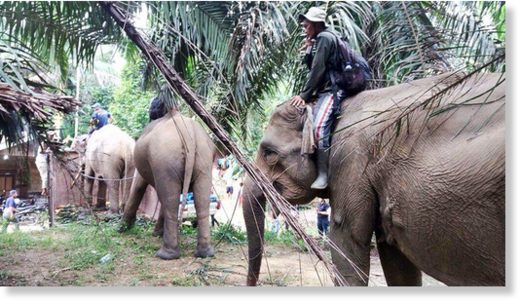 The owner of a company that provides elephant facility tours was killed by one of the elephants at his park.
I Nyoman Levi Suwitha, 60, was attacked by a male Lampung elephant on Friday at Bakas Levi Rafting and Elephant Tours in Bakas village, Klungkung regency, about 30 kilometers from Denpasar, Bali.
Klungkung Police chief Adj. Sr. Comr. Arendra Wahyudi told The Jakarta Post that Nyoman Levi came to the elephant cage at around 10:20 a.m. local time soon after he arrived from Denpasar. When he was feeding the elephant, the animal suddenly attacked him. During the incident, the elephant lifted up Nyoman Levi and slammed his body on the ground, leaving him unconscious.
"The victim was rushed to Klungkung Hospital immediately after the incident. However, a doctor at the hospital's emergency unit stated the victim had died when he arrived there," Arendra said.
Arendra further said the police were still investigating the case. "We have questioned several witnesses and will continue the investigation," he said. Citing a witness, the police chief said the elephant was leashed inside the cage when the incident occurred.