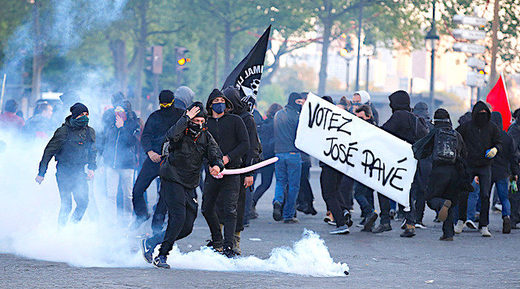 French riot police have deployed tear gas on protesters
who gathered at the Place de la Bastille in central Paris after preliminary results of the first round of the presidential election were announced. Protests in Paris in the aftermath of the vote have
turned violent with smoke grenades, flares and glass bottles thrown at police. RT's correspondent Charlotte Dubenskij was tear gassed while reporting from the scene.
The rallies, dubbed the
"night of the barricades,"
are expected to take place in
13 cities across France.
The protests erupted minutes after the polling stations closed in the first round of the presidential elections.
There is a
massive riot police presence
on the streets of Paris, with officers wearing full body armor, including shields and carrying batons and pepper spray bottles, as can be seen on images from a Ruptly video. At some point protesters were seen
throwing chairs
- apparently from nearby cafes - at police officers.
Three people have been detained by police at the protest, AP reported. At least one protester has been reportedly injured in clashes with police. The protesters say they are
unhappy with all of the 11 candidates
taking part in the elections, according RT's Dubenskij. Police are currently trying to kettle the crowd and block it off in one area to prevent the protest from escalating.
Protesters brought a
makeshift guillotine
to the Opéra Bastille to show their dissatisfaction with the elections,
claiming they are against racism, sexism, fascism and basically anything that has to do with the establishment,
Dubenskij added.
"We came to protest against the masquerade that represents this election," a protester said, the French Europe1 news outlet reported. Paris police have issued a warning on Twitter, saying the traffic around the Bastille area is heavy due to the protest.