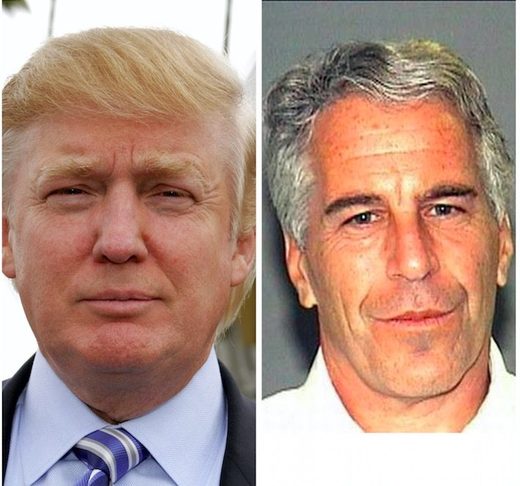 President Donald Trump is on the witness list for a civil trial, involving a Florida attorney, who represents convicted pedophile Jeffrey Epstein's alleged victims, and the disgraced billionaire himself.
"President Donald Trump has been identified as an individual who may have information relating to these allegations,"
attorney Jack Scarola told LawNewz.com in an interview. Scarola is representing attorney Bradley Edwards, a party in the case.
Scarola told LawNewz.com that they have evidence that
at least one of the now (former) employees at Trump's Mar-a-Lago club were recruited by Epstein's agent to become involved in a pattern of alleged molestations.
The civil trial, which is expected to begin soon, is a complicated one and dates back to 2009. It involves allegations of malicious prosecution, and defamation filed by Florida attorney Bradley Edwards. Edwards also represents several of Epstein's alleged victims who brought separate civil cases against Epstein. But, what is particularly interesting about this latest case is that it now appears to involve President Donald Trump himself.
In 2007, federal prosecutors, ironically under the leadership of Trump's current Secretary of Labor
Alexander Acosta
(who was a U.S. Attorney at the time), quietly entered into a secret non-prosecution agreement with the billionaire
which ensured that Epstein and his 'co-conspirators' would not be prosecuted federally
in exchange for Epstein's guilty plea to state charges. Basically,
Epstein got a slap on the wrist and served 13 months in a Florida prison
and home detention for solicitation and procurement of minors for prostitution .
Court records in the civil case claim t
hat
Epstein repeatedly sexually assaulted more than 40 young girls on numerous occasions between 2002 and 2005
at his mansion in West Palm Beach, Florida.
While there is no evidence that Trump was involved in Epstein's scheme, Bradley's attorneys claim that "Trump and Epstein have acknowledged that they were friends, that they have socialized together. We have reason to believe that Trump was a guest in Epstein's home during the period of time that Epstein was engaged in molestation."
Trump is included
on a witness list filed on August 31, 2016
along with Bill Richardson, the former governor of New Mexico.
In Bradley Edwards' affidavit filed in support of the civil case, he claims that Mark Epstein (Jeffrey Epstein's brother) testified that Trump flew on Jeffrey Epstein's plane with him (the same plane where multiple young girls say they used to have sex.) Former President Bill Clinton is also said to have flown on that same plane.
"Epstein's phone directory from his computer contains 14 phone numbers for Donald Trump, including emergency numbers, car numbers, and numbers to Trump's security guard and houseman," the affidavit claims.
"
The likelihood is very low that he is deposed or called as a witness at trial
," Scarola explained in a story first reported by
The Florida Bulldog, an investigative nonprofit
. "There are, as you might imagine, substantial hurdles in calling a sitting U.S president and we don't want any further delays on this case."
The civil trial has been delayed several times, and a judge is expected to set a trial date shortly. We've reached out to Trump's personal attorney for comment, and will update the story if we hear back.