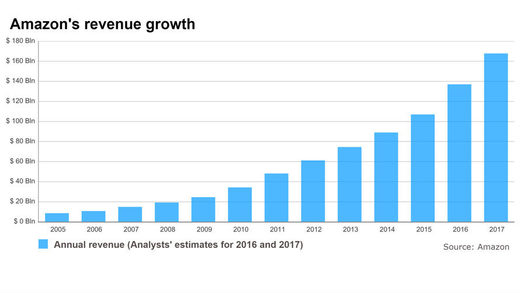 Amazon.com has been crowing about its plans to
create 100,000 American jobs
in the next year, but as with
other recent job-creation announcements
, that figure is meaningless without context.
What Amazon
AMZN, -0.11%
won't tell us is that
every job created at Amazon destroys one or two or three others.
What Jeff Bezos doesn't want you to know is that Amazon is going to destroy more American jobs than China ever did.
Amazon has revolutionized the way Americans consume. Those who want to shop for everything from books to diapers increasingly go online instead of to the malls. And for
about half of those online purchases, the transaction goes through Amazon.
For the consumer, Amazon has brought lower prices and unimaginable convenience. I can buy almost any consumer product I want just by clicking on my phone or computer — or even easier, by just saying: "Alexa: buy me one" — and it will be shipped to my door within days or even hours for free. I can buy books for my Kindle, or music for my phone instantly. I can watch movies or TV shows on demand.
But
for retail workers, Amazon is a grave threat.
Just ask the 10,100 workers who are losing their jobs at Macy's.
M, -0.03%
Or the 4,000 at The Limited. Or the thousands of workers at Sears
SHLD, -0.45%
and Kmart, which just announced 150 stores will be closing. Or the 125,000 retail workers who've been laid off over the past two years.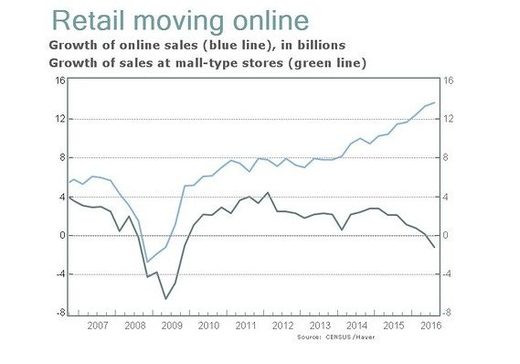 Amazon and other
online sellers have decimated some sectors of the retail industry in the past few years.
For instance, employment at department stores has plunged by 250,000 (or 14%) since 2012. Employment at clothing and electronics stores is down sharply from the earlier peaks as more sales move online.
"Consumers' affinity for digital shopping felt like it hit a tipping point in Holiday 2014 and has rapidly accelerated this year," Ken Perkins, the president of Retail Metrics, wrote in a research note in December. And when he says "digital shopping," he really means Amazon, which has
increased its share of online purchases from about 10% five years ago to nearly 40% in the 2016 holiday season.
It's only going to go higher, as Amazon aggressively targets other sectors such as groceries and even restaurants with delivery services for restaurant-prepared meals.
At the end of 2016, the retail sector employed 16.5 million workers, and the restaurant industry employed another 11.4 million. Together, that's
nearly one out of every five workers in America, the same share of employment accounted for by the manufacturing sector in 1982.
Many of those jobs are threatened by Amazon's incredible growth. But some are relatively safe: Most of the 11.4 million restaurant jobs are safe from online competition, for instance, because people still love going out to eat, and someone has to cook and wash the dishes. The 1.3 million working at car dealerships probably won't be affected anytime soon, and neither will the 925,000 at gas stations, or the 1.1 million working at building materials stores. You won't buy a new car, or a gallon of gas, or 50 sheets of drywall online.
However, about 12 million jobs in retail are facing increasing competition from Amazon, particularly the 6.2 million people who work in the kind of stores that are typically found at malls or shopping centers —
furniture, appliance and electronics, clothing, sporting goods, bookstores, and general merchandise stores — what the statisticians call GAFO (General Merchandise, Apparel and Accessories, Furniture and Other Sales).
GAFO is the heart of what we think of as retail, and that's where Amazon has revolutionized the market. After years of barely holding their own, sales at GAFO stores have stalled, falling $1.8 billion (or 0.6%) in the past year while the rest of retail was growing 4%.
Meanwhile, online sales jumped by $13.7 billion through the third quarter of 2016, with Amazon accounting for most of that. It is expected to overtake Macy's as the country's top retailer of apparel this year.
At current growth rates, Amazon would have annual revenue of $500 billion in five years. As traditional retailers close stores and dismiss workers, shopping at the mall will make less and less sense.
There's not much retailers like Macy's, The Gap
GPS, +0.72%
, Best Buy
BBY, +0.09%
and Barnes & Noble
BKS, +1.74%
can do about it. Their business will be much, much smaller.
And now that Amazon is getting serious about groceries, even Wal-Mart
WMT, -0.20%
is threatened.
Although retailers have been laying off workers, they probably aren't laying off enough, considering how quickly their sales are eroding. While sales fell 0.6% in 2016, employment at the GAFO stores increased by 1.6%, or about 95,000. You don't make money by hiring more people to sell less.
So what's the big deal? Won't the people who once worked at Macy's just work at Amazon instead? Well, no.
Amazon needs about half as many workers to sell $100 worth of merchandise as Macy's does.
Macy's has floor walkers, and saleswomen at the makeup counter to give personal attention, and cashiers, if you can find one.
By contrast, Amazon has "pickers" in warehouses who grab hundreds of items off the shelves every hour. Amazon just announced it would hire a lot more pickers this year as it opens more distribution centers. But
even those jobs are threatened by Amazon.
That's because
Amazon is at the forefront of automating retail. More and more of the work in the warehouses will be done by robots, and Amazon contemplates deploying flying drones (robots) to deliver the packages to your door
. Amazon's concept for selling groceries includes almost no workers, because customers will check themselves out and robots will restock the shelves.
What's most troubling to brick-and-mortar retailers and their workers is that Amazon's sales growth is accelerating (19% in 2014, 20% in 2015 and 28% in 2016), and shows no sign of plateauing. Amazon isn't just taking sales from brick-and-mortar stores; it's also taking market share from traditional retailers' online stores.
Amazon is also
moving aggressively into warehousing and package delivery services, which combined employ 2 million workers, including 600,000 at the post office. How many of those jobs will Amazon's drones take?
Could Amazon actually kill more American jobs than China did? It's quite likely. Economists David Autor, David Dorn and Gordon Hanson
have estimated
China's manufacturing exports to the U.S. may have cost as many as 2 million jobs.
If Amazon can capture 40% of the GAFO market within five years (as seems likely), about 1.5 million jobs at brick-and-mortar stores could be lost.
Add in the jobs Amazon will kill at grocery stores, drugstores, warehouses and delivery services, and the total would be well over 2 million.
And unlike the manufacturing jobs lost to China, which were clustered in a comparatively few counties,
those retail jobs are located in every city, town and hamlet in America.
Don't worry, though. Economic theory says the displaced workers will find other jobs as the economy grows more productive. And Amazon will pay you a couple of bucks if you'll use your own car to deliver packages to your neighbors.