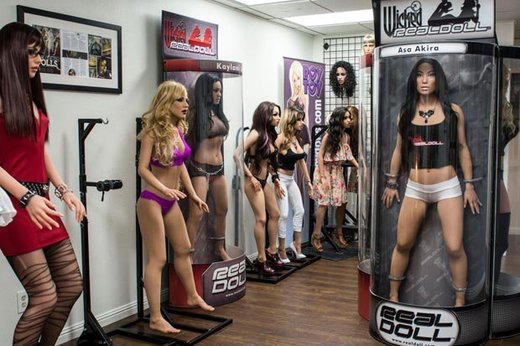 California-based sexdoll maker Realdoll has delved into robotics and artificial intelligence in
preparing to release a silicone significant-other with which the user can choose a personality, as a means to form a 'real bond.'
The new system will be rolled out through 2017 and into 2018, and consists of several components, the first of which will be the Harmony AI app, scheduled for release in April 2017. By the end of the year, Realdoll's "first robotic head systems," are set to follow.
To develop the product, Realdoll CEO Matt Mullen formed Realbotix, a team of engineers, telling Digital Trends that the new systems will take the RealDoll experience to unprecedented levels.
"We are developing the Harmony AI system to add a new layer to the relationships people can have with a Realdoll," he said, adding, "Many of our clients rely on their imaginations to a great degree to impose imagined personalities on their dolls. With the Harmony AI, they will be able to actually create these personalities instead of having to imagine them.
They will be able to talk to their dolls, and the AI will learn about them over time through these interactions, thus creating an alternative form of relationship.
The scope of conversations possible with the AI is quite diverse, and not limited to sexual subject matter."
With just a head costing some $10,000, these new companions will be far from a cheap date.
For a $20 annual subscription, users will access the AI system to
choose from personality traits
including naive, shy, brainy, sexual and kind,
and will be able to set how strongly these attributes feature in their interactions
with their plastic paramour.
Users will also have full control over the clothing, facial, and body appearance of the animatronic device using the app, along with voice and text chats, complete with customizable voices.
McMullen, who claims to have sold over 5,000 sex dolls since 1996, feels that the new models can be an aid to people who struggle with interpersonal relationships. He said, "We feel that this system, and this technology, will appeal to a segment of the population that struggles with forming intimate connections with other people, whether by choice or circumstance...Furthermore, it will likely attract those who seek to explore uncharted and new territory where relationships and sex are concerned."