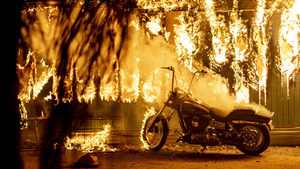 The Woolsey Fire in Malibu, California, November 10, 2018
He who passively accepts evil is as much involved in it as he who helps to perpetrate it. He who accepts evil without protesting against it is really cooperating with it.
- Martin Luther King, Jr.
Recent Comments
"Thank you for your service."
---
Nope... it aint over til the Fat Lady sings. It ll get verrrry messssy before it s over. Crusaders (?)
---
Time to get the big logging companies to rake up the slash after they clear-cut the woods.
---
Agnosco, that sure took alot of brain power :P Tambien... Some of us read more than fake news ;) Clint, they re both psychos.
---
Warns? Warned? You can warn against a danger... Funny guys.