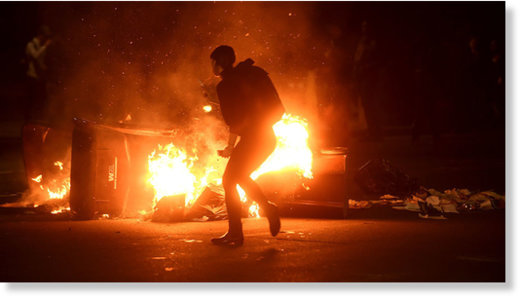 After Donald Trump was elected the 45th president of the United States, angry supporters of Hillary Clinton, with many college students among them, took to the streets on both coasts to express their dissatisfaction with the result of the vote.
Some of the largest protests happened on the West Coast, with crowds marching through California's Oakland, Berkeley, Los Angeles and San Francisco.
Students from the University of California in Los Angeles (UCLA) and San Diego (UCSD) gathered in the streets until late at night, chanting
"Not my president" and expletives such as "F**k Trump."
At least 500 protesters gathered near UCLA, AP reported, citing police.
Comment:
UCLA police Sgt. Miguel Banuelos
says
an estimated 2,000 people rallied at UCLA: "The demonstration peaked about 1 a.m., when a Trump piñata was set on fire in a trash can outside a Westwood Boulevard store. The small blaze aside, no major incidents were reported, and police said the crowd was peaceful."
Even larger crowds took to the streets from the Berkeley campus,
with angry participants lighting flares and shouting similar slogans
.
Comment:
The
Mirror
reports
: "Meanwhile, a young student has reportedly been hit by an SUV and severely injured during a march in Berkeley, with one witness claiming the crash was intentional, according NBC Bay Area." According to the
LA Times
:
The demonstrations reflected sadness, anger and bursts of rage. Crowds openly disavowed the president-elect, and a few resorted to vandalism.

At Berkeley High School, about 1,500 students, or half of the entire student body, walked out of class before 9 a.m. in protest of Trump's victory, Berkeley Unified School District officials said.

Students tweeted "#NotMyPresident," and pledged to unify. Others chanted, "Si se puede," or "Yes, we can," and waved Mexican flags, posts on social media show.
Demonstrations apparently got even more out of control in Oakland,
where protesters smashed windows, set fires in the streets and burnt an effigy of the Republican winner
, local television reported.
Comment:
From the
LA Times
:
The crowd broke windows on five businesses and vandalized one, said Oakland police spokeswoman Johnna Watson. One citation was issued, but no one was arrested, she said.

Protesters also burned Trump in effigy, KNTV reported.
More images of the destruction and chaos caused by Killary fanatics: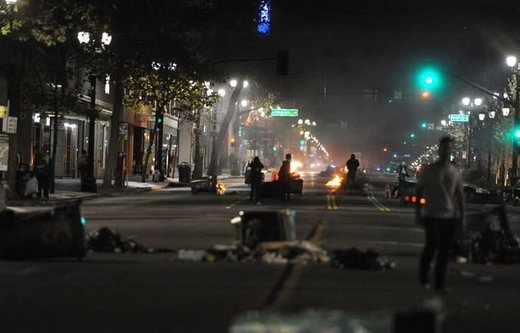 In Oregon, one of the states that Clinton won, crowds blocked traffic in Portland. Streets in Eugene were also filled with people
shouting expletives
.
Comment:
The precious snowflakes in Oregon were
just as civil
:
Students are seen walking out of their dorms and onto campuses shouting "F**k Trump" and "Bitch!"

Oregon has become one of the states that saw Hillary Clinton win, and users took to Twitter to express their outrage online.



In Portland, Oregon, hundreds of protesters - many of them local students - are downtown, blocking traffic and chanting "Whose streets? Our streets!" Some of the protesters are sitting and lying on the ground.


A man with megaphone says the demonstration is against "homophobia, bigotry and sexism," chanting "Stand for what you preach for," data reporter from the Oregonian newspaper Fedor Zarkhin posted on Twitter.


In Seattle, Washington, police had to close a street after protesters blocked an intersection,
USA Today
reported.
More than 1,000 people gathered outside the White House in the US capital to protest Trump's victory,
according
to Fox News. Meanwhile, in New York
prominent musician Lady Gaga, who was in Hillary Clinton's camp, staged a one-woman protest outside Trump Tower, holding a sign reading "Love trumps hate."