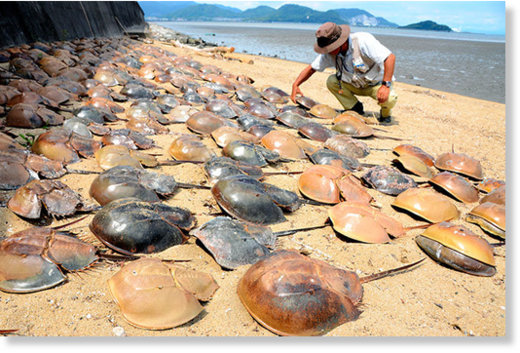 Nearly 500 dead horseshoe crabs have washed ashore at a tidal flat here, and researchers have no idea what is killing the endangered species that dates back 200 million years.
According to a local horseshoe crab protection group, 50 to 60 dead horseshoe crabs are found annually at the Sonehigata tidal flat, one of the largest habitats of horseshoe crabs in Japan.
But 490--the largest number over the last 20 years--have already been discovered this year.
Hiroko Koike, a researcher at the Kyushu University Museum who studies horseshoe crabs at Sonehigata, said the overall health of the crabs appears good.
"Rises in the sea level caused by global warming, shortages of places to lay eggs and a lack of nutrition could have resulted in their deaths," Koike said. "We have to be careful to identify the cause."
Shungo Takahashi, 61, head of the Fukuoka branch of a group to observe and protect the species, said dead horseshoe crabs were first discovered in January, a time when they are typically dormant.
The number of dead crabs started increasing around late June and further rose in July and August. More than 10 dead horseshoe crabs have been found on some days, according to Takahashi.
Around 2,000 breeding pairs are confirmed to have arrived in Sonehigata to lay eggs this year. Based on that number, Takahashi estimates that there were 2,400 horseshoe crabs at the tidal flat. The dead 490 crabs account for 20 percent of that population.
"I am worried that they could lay fewer eggs next year or later," Takahashi said.
Satoshi Morinobu, a researcher at the Kasaoka Horseshoe Crab Museum in Kasaoka, Okayama Prefecture, said the creatures need much time to grow into adults, so the large number of deaths could deal a heavy blow.
According to the Fukuoka Fisheries and Marine Technology Research Center, the seawater temperature off Fukuoka Prefecture in the summer was 1 degree higher than usual.
But Morinobu said, "Horseshoe crabs can be found in further southern waters as well, so they must be resistant to high water temperatures."