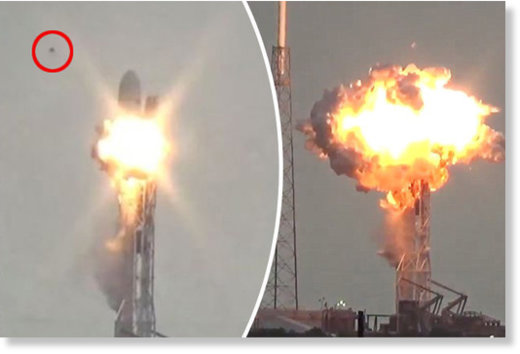 Musk tweeted on Friday asking for 'support and advice' on the blast
SpaceX CEO said engines were off at the time, with no known heat source
The September 1 blast destroyed Facebooks $200 million satellite
Some have claimed footage shows a drone, or even UFO, hitting rocket
It has been over a week since SpaceX's Falcon 9 rocket exploded on the Cape Canaveral launchpad, destroying Facebook's $200 million satellite in a massive fireball that rattled windows miles away.
Now, Elon Musk is asking the people of the internet for help in finding answers on what he's called the 'most difficult and complex failure' the firm has ever experienced.
The billionaire SpaceX CEO took to Twitter on Friday seeking 'support and advice' as the investigation continues - and
addressing claims that a mysterious object may have hit the rocket, Musk says they 'have not ruled that out.'
In a series of tweets early this morning, Musk revealed new details on the conditions of the rocket at the time of the blast, and asked users to send in any footage of the incident.
According to Musk, the engines were off and there was no known heat source present to trigger the explosion.
"Still working on the Falcon fireball investigation. Turning out to be the most difficult and complex failure we have ever had in 14 years," Musk tweeted on Sept 9.
He continued, "
Important to note that this happened during a routine filling operation. Engines were not on and there was no apparent heat source".
The SpaceX CEO also noted that they are investigating a sound that occurred just before the blast.
So far, the origin of this sound remains a mystery.
'Particularly trying to understand the quieter bang sound a few seconds before the fireball goes off.
'May come from rocket or something else,' Musk tweeted.
As the cause of the fireball continues to elude investigators, conspiracy theorists have proposed numerous explanations on what may have happened - including sabotage from a rival company, a drone collision, and of course, aliens.
And while some of these suggestions may be far off, the investigators are still considering the possibility that a third-party interference could have triggered the explosion.
Videos of the event shared on YouTube appear to show a mysterious object passing over the site just as the rocket bursts into flames.
In response to one user who asked if there's 'any reality' in the claims that 'something hit the rocket,' Musk wrote: 'We have not ruled that out.'
SpaceX has not publicly revealed the full extent of the launchpad's damage, and it's thought that the firm will likely remain grounded for nine to 12 months following the accident
Comment:
SOTT's
own analysis
theorizes that it's possible that a UFO, or at the least something unidentified, was flying near the rocket in the moments before the explosion. See the below video for more evidence: