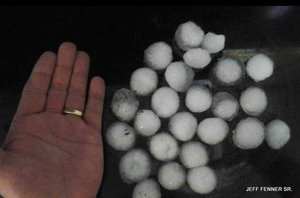 People in and around Great Falls were awakened by the sound of huge hailstones coming down overnight.
Hail up to the size of golf balls
was reported throughout Great Falls, causing damage to trees, vehicles, and property.
Among the damage - the Great Falls Police Department, who said: "Most of our fleet was damaged by last night's storm. We have dings and cracked windshields galore."
STORMTracker meteorologist Mike Rawlins says the storms virtually came out of nowhere.
"One minute we were fine and the next, the radar lit up with storms,"
said Rawlins.
The STORMTracker Weather Team was expecting showers and thunderstorms, but severe weather wasn't a big concern.
Rawlins noted,
"I expected some small hail, but nothing like what we got in Great Falls."
The National Weather Service
did issue a Severe Thunderstorm Warning
for the city of Great Falls at 12:33 a.m. Thursday,
but the storm was already dropping large hail on the city by the time it was disseminated.
Much cooler, wetter weather is expected on Thursday, however severe thunderstorms are unlikely.
By: MTN News