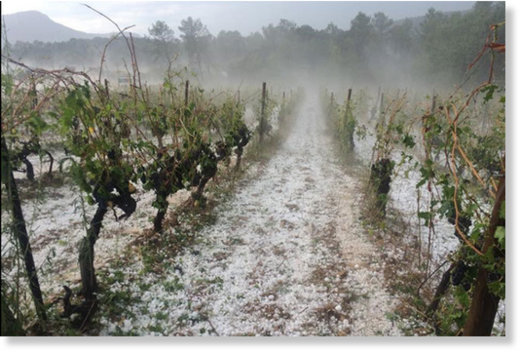 France's weird weather causes more chaos - just as the grapes are due to be harvested.
Growers in Languedoc are in shock after a brutal hailstorm wiped out half the grape crop just days away from the start of harvest.
The sudden storm arrived in the Hérault department on Wednesday afternoon and pelted the vineyards - especially in the area around Pic Saint-Loup -
with hailstones the size of golfballs,
according to French media reports.
In the village of Lauret, where the storm was at its fiercest, some vineyards were wiped out, according to Mas de l'Oncle winemaker Fabrice Bonmarchand.
Bonmarchand, who has been in the region for five years, said he had never seen a storm like it. "I don't have much experience of this kind of disaster, but I was speaking to the former winemaker, who is 92, and he told me this morning that he can't remember as violent an incident of hail either."
Staff from the local chamber of agriculture are assessing the damage and it appears that at least 50 percent of the crop has been destroyed, with bunches reduced to mush by the hail. Chamber president Jérôme Despey told the local Free Midi newspaper that some growers had been completely devastated.
"In some areas, hailstones the size of eggs did considerable damage, to the point where some lost 100 percent of their crop."
The region is the latest to be struck by freak weather event, after Burgundy, the Loire and the South-West regions got hammered by storms in the spring. Languedoc appellation director Jean-Phillippe Granier said 2016 would be "a very complicated vintage", putting many small growers at risk of financial ruin. "Of course, it is always possible for winemakers to buy grapes if the natural disaster is recognized [by the French government], but that would be only a small consolation, just enough to keep them from going under. Many winemakers are not insured."
More than 1000 hectares of vineyard were destroyed in less than 30 minutes by the storm. It was particularly heartbreaking as the harvest was only 7-10 days away and it had already been a tough season, with drought conditions leading to a thinner-than-usual crop.
Pic Saint-Loup is a sub-appellation of Languedoc and focuses entirely on red and rosé wines, mostly from Grenache, Syrah and Mourvèdre. It is named for the large mountain that dominates the landscape. The region lies some 20 kilometers (12.5 miles) north of the city of Montpellier and the Mediterranean coast.