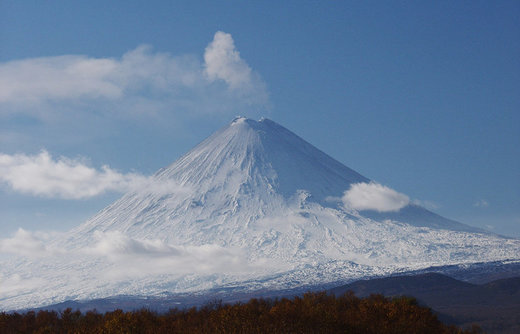 Klyuchevskoy volcano on the Kamchatka Peninsula in the Russian Far East has spewed ash up to 7.5 kilometers in the air, the Kamchatka department of Russian Academy of Sciences' Geophysical Service told TASS on Wednesday.
"According to satellite images, the ash column was as high as 7.5 km above the sea level. Ash is carried to the north-east. The concrete size of the ash plume is unknown since a large area near the volcano is covered in thick clouds," the Geophysical Service said.
No reports have been made yet about volcanic ash eruptions in settlements of the Ust-Kamchatsky district, where the volcano is located.
The Klyuchevskoy, also known as the Klyuchevskaya Sopka, is located 360 km to the north-west of the capital of the Kamchatka Krai, Petropavlovsk-Kamchatsky. The nearest town, Klyuchi, is separated from it by a distance of 30 km and is home to about 5,000 people at present.
The volcano, which is believed to be about 7,000 years old, has the height of 4,750 meters above the sea level. Apart from being the largest active volcano in Eurasia, it is also the highest mountain in Russia outside the Caucasus.
All in all, the Kamchatka peninsula has 29 active volcanoes.