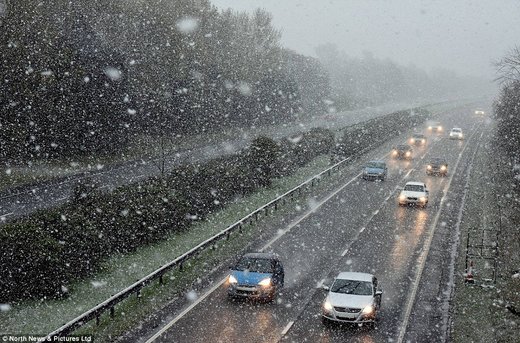 Snow and sleet has fallen in many parts of the UK as
temperatures
struggle to get into double figures with the prospect of a Spring-like May a long way off.
It's almost May but forecasters are warning the unsettled picture will continue for much of the week with freezing conditions in many parts.
Thunder, lightning and sleet showers are expected with some in northern areas witnessing heavy snowfall, including on the North Yorkshire Moors and parts of Scotland.
It is the
latest widespread snow has been seen in the UK since May 6, 1997
, when more than 200 weather stations recorded it.
Before that forecasters have to go back to April 27, 1985 when several London weather stations recorded sleet.
Snow even stopped play at The Oval cricket ground this afternoon as the south was dusted in the white stuff.
The type of snow flurry seen in London is known as 'thundersnow'. It is a phenomenon caused by heavy showers accompanied by lightning storms.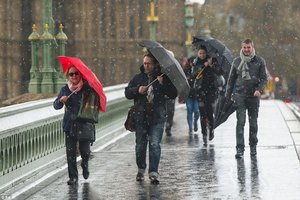 Forecasters think parts of Britain will be colder than Siberia and Greenland this week
. There is a strong risk of hail showers throughout the country, with a chance of snow settling down to 200 metres.
Tonight will see wintry showers along the coast, with icy patches developing in Scotland and eastern England. Temperatures will be down to freezing in some places.
The sight of snow in London has prompted a flurry of bets at Ladbrokes on April being the coldest month on record at 5/1. Another bet being taken on at 4/5 is that snow will fall in the UK every day until Sunday May 1.
Nicky Maxey, a spokeswoman for the MetOffice, said: 'It's continuing to look unsettled tomorrow and there's still a chance of more hail and thunder.
'More snow will be at higher levels, over 500 metres and further north there will be a chance of some thunder with some hail anywhere in the country.
'Tomorrow the eastern side will have more chances of snowy conditions, less chance in the west.
'That unsettled picture continues for the rest of the week, as we go on wind more from the Atlantic, westerly direction and low pressure will influence weather.
'Temperatures will be in double figures again by the weekend. London on Saturday and Sunday will be 14-15C [57.2F-59F], back to more of what you expect for the time of year.'
There is a severe weather warning in place for northern Scotland warning of snow and ice.
The unsettled conditions could also cause problems for Monday's Bank Holiday, forecasters say.
On this day last year temperatures peaked in London at 11.3C [52F] - with the hottest part in Sutton Bonington near Nottingham which reached 13.3C [56F].
Mrs Maxey added: 'Today is looking like most places will be struggling to see double figures. As you would expect further north is colder - in Scotland, Aberdeen and Glasgow looking at 7-8C [44-46F]. In London it will be nearer 10-11C [50-52F] and for the south east today. That's per normal and is a few degrees difference between north and the rest of UK.'
Spring snowfall will allow the ski resort in the Cairngorms to remain open into May.
Heavy snow and freezing temperatures on Tuesday morning mean more than half of the 11 lifts in the Aviemore area are open for skiers and snowboarders.
In 2010, CairnGorm Mountain remained open until June for the first time with hundreds of skiers trekking to the snow.
This year, the resort will be open until at least May 2, when staff will review the conditions.
Snow is expected to continue in higher parts of the north east of Scotland until the weekend.