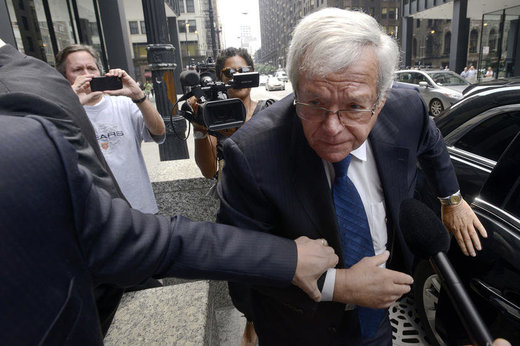 Nearly a year later, it still seems hard to believe. As we
discussed
last May, a criminal indictment against former House Speaker Dennis Hastert was made public, alleging that an unnamed person approached the Illinois Republican and confronted him over misdeeds that happened "years earlier." Soon after, the Republican began paying the unnamed person through a series of cash installments. According to the allegations at the time,
Hastert agreed to pay $3.5 million in order to "compensate for and conceal" unspecified "misconduct." The former GOP leader was charged, not for the misdeeds, but for his attempts to cover them up, including alleged lies to the FBI. Four months later, Hastert issued a guilty plea on the charges related to his financial improprieties, but as the sentencing phase gets underway, prosecutors are now
adding crushing details
to the case against the former Speaker.
Justice Department prosecutors said Friday that former House speaker Dennis Hastert abused four young boys when he was their wrestling coach and urged that he be ordered to serve up to six months in prison when he's sentenced later this month. [...]



Comment:

Up to 6 months for sexually abusing four children?! Only in a

pathocracy

.


For the first time, government lawyers said Hastert made payments to a man who was sexually abused at age 14 by Hastert when he was the boy's wrestling coach. Prosecutors said the abuse also involved "other minors," and included touching their genitals or engaging in oral sex.
In their court filings, prosecutors, seeking a harsh penalty, took aim at "the actions at the core of this case took place not on the defendant's national public stage but in his private one-on-one encounters in an empty locker room and a motel room with minors that violated the special trust between those young boys and their coach."
The allegations paint a horrifying picture of a monster. They also raise an alarming realization that Dennis Hastert - the longest serving Republican House Speaker in American history, a man who was two heartbeats from the presidency of the United States for eight years - allegedly spent part of his life as a serial child molester, unbeknownst to anyone except Hastert and his victims.
As we
discussed
last year, from 1998 to 2006, House Republicans suffered one ugly scandal after another. Democrats used the "culture of corruption" label to great effect because it was true - from Gingrich to Livingston, DeLay to Cunningham, Ney to Foley, the GOP's House majority just couldn't stay out of trouble. But no matter how many scandals surrounded House Republicans, GOP officials pointed to the humble Speaker from Illinois as the squeaky clean leader, elevated to the post from relative obscurity because of his above-the-fray reputation. And if federal prosecutors are correct, Hastert's crimes were far worse than any of his colleagues'.
Hastert has not yet publicly acknowledged his crimes, but his defense attorney, eager to keep his client out of jail, said the former Speaker is sorry for his "mistakes in judgment and his transgressions," though he didn't specify what those "transgressions" entail.
Postscript
: David Axelrod wrote
a piece
for CNN on Hastert's first congressional election, in which Axelrod worked for the Republican's Democratic opponent. Hastert won "partly on the strength of a sleazy, 11th-hour mailer sullying the morality of his opponent."