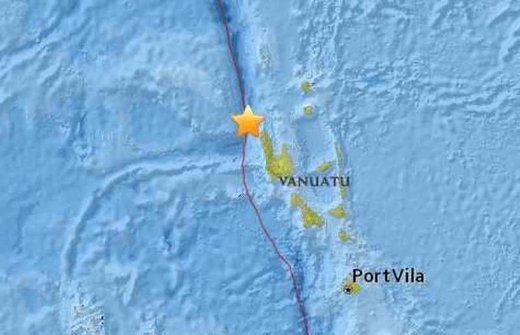 The earthquake, which struck at 8:50 a.m. local time on Friday, was centered about 101 kilometers (62.8 miles) northwest of Port-Olry, or 147 kilometers (91 mi) northwest of Luganville. It struck at a shallow depth of just 10 kilometers (6.2 miles).
The United States Geological Survey (USGS) measured Friday's earthquake at a preliminary 6.5 and estimated that some 183,000 people on nearby islands may have felt the shaking, including some 2,000 people who may have experienced "moderate" to "strong" shaking.
There were no immediate reports of damage or casualties from the earthquake, though shaking would have been felt across much of the nearby islands. No tsunami warnings were issued as earthquakes below magnitude 7.5 do not tend to generate tsunamis.
Vanuatu is on the so-called 'Pacific Ring of Fire', an arc of fault lines circling the Pacific Basin that is prone to frequent and large earthquakes.
On average, the island nation and the surrounding waters are struck by about three powerful earthquakes every year.
Volcanic eruptions also occur frequently in the region.
In August 2011, two powerful earthquakes measuring 7.1 and 7.4 on the Richter scale struck about 63 kilometers (39 miles) south-southwest of Port-Vila. Tsunami waves of up to 1.05 meter (3.4 feet) were observed on the island of Efate, but there were no reports of damage.