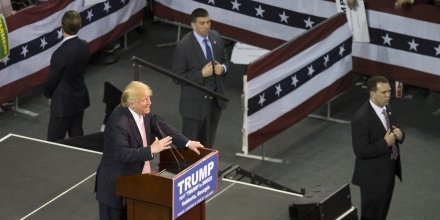 While he otherwise exhibits many of the traits of a stand-up comedian,
laying into his rivals
like an insult comic at a roast, Donald Trump's inability to tolerate heckling, or even silent protest, has made the spectacle of critics being forcibly removed from his rallies a routine feature of his campaign.
On Monday, though, the preemptive removal of about two dozen black college students from a crowd waiting for the candidate at Valdosta State University in Georgia raised an obvious question:
Why, exactly, did a local police force apparently obey orders from the Trump campaign to help screen his audience by removing dissenters?
The ejection of the students,
who had tickets to the event
, and their subsequent argument with officers from the city of Valdosta's police department, who led them outside and directed them to a "designated protest zone" about a five-minute walk from the college gym, was extensively documented on video by participants and reporters.
While there was some confusion about who ordered the ejection — the Trump campaign
initially denied responsibility
, and several of the participants were under the impression the Secret Service was in charge —
video recorded by one witness, Darian Harris
, clearly shows a police officer telling the students the request came from the candidate's staff. "All I know is, the Trump staff has asked — they're the ones that rented the building today ... and they've asked that you be removed from the property," he said. When a young woman then asked the same officer why she and the others had been picked out, he replied, "I don't know, the staff called us."
Asked on Tuesday why his officers agreed to help the Trump campaign staff remove a selected group of audience members, Brian Childress, the city's police chief,
told the Valdosta Daily Times
that the students "were causing a disturbance."
"They were removed because they were loud and disruptive and dropping the f-bomb," he said.
"You can't be in there using profanity," the chief added, in
an interview with Jennifer Jacobs
of
USA Today
. "That violates Georgia law."
There is, however, no trace, in any of the video clips of the incident reviewed by
The Intercept
, of provocative "fighting words,"
which
Georgia's criminal code
defines as "abusive words which by their very utterance tend to incite to an immediate breach of the peace," and which are
not protected by the First Amendment
.
The students, for their part, insist that they were quiet and well-behaved before being singled out as potential troublemakers by campaign staffers — perhaps because many of them
wore all-black clothing
. It was only after they had been forced from the bleachers, a student named Maya Rose wrote on Twitter, that several of them raised their fists in a black power salute.
In
a video interview
with
USA Today
, one of the students argued that they had been ejected because of their race, and another reiterated that
the group had only intended to "make a statement with our attire," and had no intention of disrupting the rally.
In
a letter
responding to numerous complaints about the suppression of free speech on campus, Cecil P. Staton, the interim president of Valdosta State — which did not admit black students until 1963 — argued that the school had been powerless to prevent the incident since it took place at a private event in a hall rented to the Trump campaign.
"While this is disturbing, it should be remembered that this was not a VSU-sponsored event, but a private function," Mr. Stanton wrote. "The Trump campaign, together with the Secret Service and other law-enforcement officials, had responsibility for such decisions, not VSU."
The school's president added that
"current federal law (H.R. 347) does not allow for protesting of any type in an area under protection by the Secret Service."
As journalist Dahlia Lithwick and First Amendment lawyer Raymond Vasvari
observed
in 2012, when the federal law on trespass was quietly amended by
H.R. 347
—
it is a crime, punishable by up to a year in prison, to "knowingly... impede or disrupt the orderly conduct of Government business or official functions" in locations guarded by the Secret Service, including places where individuals under Secret Service protection are temporarily located
— the revised statute made it "easier for the government to criminalize protest."
What that means in practice is that campaign rallies for Donald Trump, who was
granted Secret Service protection
in November, and Hillary Clinton, who will be guarded for life
as a former first lady
, are the very opposite of free speech zones under federal law. (The restrictions also apply to all appearances by former presidents and first ladies, as well as those of two other candidates, Bernie Sanders and Ben Carson, who are currently protected by the service.)
Another problem, as Gabe Rottman, a policy adviser for the ACLU,
explained in 2012
, is that the amended law "could be misused as part of a larger move by the Secret Service and others to suppress lawful protest by relegating it to particular locations at a public event."
"These 'free speech zones,'" Mr. Rottman wrote, "are frequently used to target certain viewpoints or to keep protesters away from the cameras."
That seems to be exactly what happened in Georgia on Monday. After the students were led out of the Trump rally, local police officers informed them that they were also banned from protesting outside the building — and directed them to "free speech zones" in a field shielded from the venue by a set of tennis courts, or
outside a church
about a quarter of a mile away.