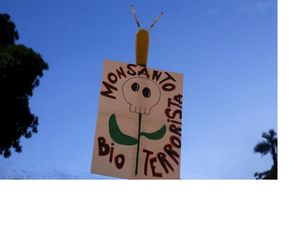 Amid global protests over toxic chemicals, French court rules against US firm.
Similar demonstrations took part around the world in May to raise awareness to what the activists claim are dangers surrounding Monsanto's glyphosate-containing herbicide Roundup. The poster reads, "Monsanto bio terrorist." Reuters
Monsanto, the world's largest seed company, was found guilty of chemical poisoning of a French farmer by a French court this week. The decision Thursday by an appeal court in Lyon in southeast France upheld a 2012 ruling in which the farmer claimed he suffered neurological problems after working with the U.S. company's Lasso weedkiller,
Reuters
reported.
The court found Monsanto was "responsible" for the poisoning and ordered the company to "fully compensate" grain grower Paul Francois, who said he suffered memory loss, headaches and stammering after inhaling Monsanto's Lasso in 2004. The farmer
said
he was happy with the ruling. "David can win against Goliath," he said. "And a giant like Monsanto is not above the law."
The case is expected to next be heard in France's highest appeal court. "We are speaking about modest sums of money or even nonexistent. He already received indemnities (by insurers) and there is a fundamental rule that says that one does not compensate twice for a loss, if any," the company's lawyer, Jean-Daniel Bretzner, said.
Other Monsanto herbicide's have also been accused of being harmful. The International Agency for Research on Cancer (IARC), part of the World Health Organization (WHO), said in March that the key ingredient in Monsanto's Roundup, one of the world's top-selling herbicides, was "probably carcinogenic to humans." Monsanto called the findings by a team of international cancer scientists "junk science."
In May, hundreds of protesters participated in the third annual March Against Monsanto event against the U.S. company's sale of toxic chemicals.
Francois said the agri-business giant should have provided adequate warnings on the product label. Lasso was a popular herbicide used for decades to control grasses and broadleaf weeds in farm fields. It was outlawed in France in 2007 and has been banned in Canada, Belgium and Britain. It is
no longer sold
in the United States for commercial reasons, its spokesman in France said.