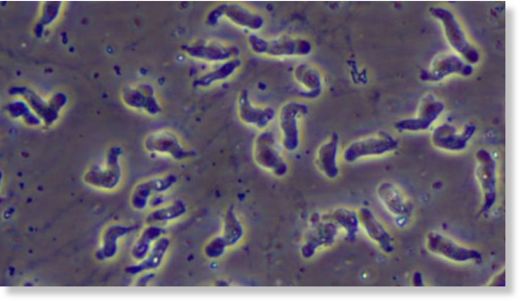 Public officials are in the process of eliminating Naegleria Fowleri, a brain-eating amoeba that thrives in warm water, from another drinking water supply in Louisiana.
Naegleria Fowleri was detected during routine tests on Aug. 5 at a utility district in Terrebonne Parish, Louisiana, roughly 80 miles from New Orleans. A press release was issued on Monday, Aug. 17.
According to the local fire department, the Schriever Water System serves approximately 97,000 residents in the Houma area.
Two other systems in the area were tested with negative results, according to the Louisiana Department of Health and Hospitals (DHH).
While officials say the water is safe for drinking, residents are urged to use caution with the water, not letting it get into their nose. Humans are infected when water containing the amoeba travels through the nose and migrates to the brain, destroying the tissue.
"We want to emphasize that the water is completely safe to drink. The amoeba cannot survive your stomach acid and is harmless when consumed in this manner," the DHH said in a recent press release.
A 60-day free chlorine burn will be completed to eliminate the amoeba
, officials said. According to the DHH, the chlorine burn will help reduce biofilm, or organic buildup, throughout the water system and will kill the amoeba.
The amoeba is commonly found in warm freshwater such as lakes, ponds and hot springs. The DHH stated that water sites are routinely tested as temperatures rise during the summer months.
"As Naegleria fowleri infections are extremely rare, testing for this ameba in public drinking water is still relatively new and evolving," the Montegut Fire Department said.
Temperatures in the Houma, Louisiana, area have been running about 1 degree Fahrenheit above normal since the beginning of August, AccuWeather Meteorologist Paul Walker said. Normal highs hit in the low 80s for this time of year.
The Terrebonne Parish site is the third regional site to test positive for the amoeba within the two months.
The brain-eating amoeba was detected late July in Ascension Parish, roughly 25 miles from Baton Rouge.
A site at St. Bernard Parish, roughly 15 miles from New Orleans, tested positive for Naegleria fowleri on July 22. A chlorine burn is underway to eliminate the deadly amoeba.
"We are taking precautionary measures that DHH approves of and would ask our residents to follow the rules that DHH has provided," Ascension Parish President Tommy Martinez said.