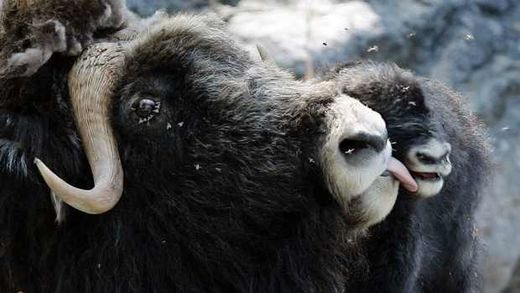 Researchers figure bacteria, climate change among main factors causing decline in N.W.T., Nunavut population
A bacteria may be the culprit for the sharp decline of the muskox population in the Northwest Territories and Nunavut
, according to a team of researchers.
The bacteria, erysipelothrix rhusiopathiae, has been observed in deceased muskoxen on Banks Island, in the Northwest Territories, as well as Nunavut's Victoria Island, since 2010. Researchers are now studying other animals in the northern ecosystem to observe the spread of the disease.
The bacteria is
"normally found in pigs and poultry,
" said Susan Kutz, an associate professor at the University of Calgary.
"This has never been found in the Arctic or in muskox before. It's very unusual to find such a thing."
The researchers believe lemmings have been transmitting the bacteria to the muskoxen. It's unclear whether it even affects the rodents; they may simply be a carrier.
"It's a hypothesis at this point," said Kutz.
The graduate students conducting the study suggest the muskoxen may come into contact with lemming fecal matter while grazing, which may transfer the disease to the mammal.
Erysipelothrix rhusiopathiae has a multitude of different symptoms, including fever, skin lesions, heart inflammation and blood poisoning. Muskoxen that test positive for the disease showed symptoms such as thrashing legs followed by rapid death.
The bacteria has been known to affect humans, though the risk is very low, according to Kutz. If residents find an animal and have an open cut, the bacteria can invade the wound.
Muskoxen populations have been in sharp decline in both areas affected by the bacteria. The Banks Island muskox population has dropped 63 per cent from 2010 to 2014, while the Nunavut side of Victoria Island has seen a 70 per cent drop since 2000.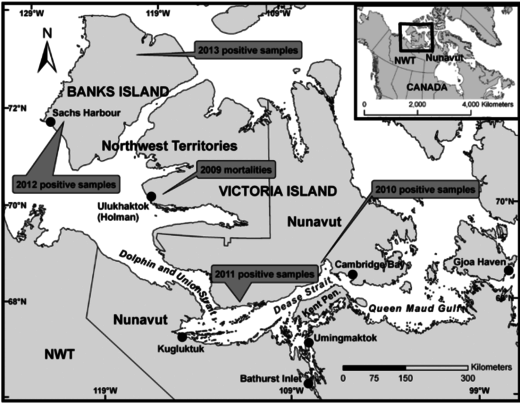 Other potential factors
Kutz suggests that climate warming, more predators and melting sea ice could be other factors in the muskoxen population decline, though more research needs to be done.
"If you're a muskox and on the island in 24-hour sunlight, it's actually quite hot if you don't have any shade," Kutz said, adding that residents of Cambridge Bay noted an increase in wolves and grizzly bears in the area.
It could be months before the researchers determine any sort of an answer to the population decline, though the commonality of the bacteria found in the muskoxen examined suggests an overlying cause of death.
Next steps
The researchers are teaming up with the governments of Nunavut and Northwest Territories to conduct further tests on muskoxen in the area, hoping to further pinpoint the cause of the population decline.
Eventually, the team hopes to not only conclusively identify the cause of the decline, but come up with a solution.
"People are certainly concerned about the muskoxen, and they've been very, very supportive," Kutz said.