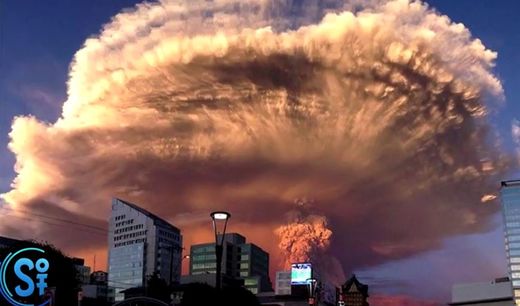 Here's a run-down of April's 'signs'...
Raging wildfires in Siberia destroyed thousands of homes and injured hundreds of people. Late in the month, on the anniversary of the world's worst nuclear accident, wildfires broke out within the Chernobyl plant exclusion zone in northern Ukraine. Both the Middle East and China experienced their "worst sandstorms in years", while huge dust storms also brought chaos to parts of both the American and Russian West. There were devastating landslides in Indonesia and Afghanistan, and a slow-moving 'horizontal landslide' in a Siberian town... which was also the setting last month for another bizarre 'exploding crater-hole'.
Settlements in the 'driest place on Earth', Atacama Desert in Chile, were washed away after being inundated for the second month in a row. Severe flooding also hit drought-plagued Sao Paulo for the 4th time in 6 months, while melting snowpack combined with torrential rain to inundate parts of the US South and eastern Kazakhstan. Inches - and sometimes feet - of hail turned streets into rivers in the US, India, and Australia, where a "once-in-a-decade" storm battered the capital Sydney. The US Midwest saw multiple violent tornado outbreaks, while powerful tornadoes devastated communities in India and Brazil.
But none of this rocking and rolling was as destructive as the strongest earthquake to hit the Himalayas in over 80 years. The 7.9M quake pretty much destroyed Nepal, set off avalanches that buried Mount Everest's base camp, and killed people in northern India, Bangladesh, and Tibet. The quake's death toll could reach 10,000 people, and has left millions more homeless. The most spectacular event of the month occurred in southern Chile, where Calbuco volcano exploded to life after being dormant for 40 years, spewing lava and ash thousands of feet into the air...
Watch it
Sott.net's Vimeo Channel
:
Music used: 'Escape from the Temple' by Per Kiilstofte. Licensed under Creative Commons Attribution 4.0 International
To understand what's going on, check out our book explaining how all these events are part of a natural climate shift, and why it's taking place now:
Earth Changes and the Human-Cosmic Connection
.
Check out previous installments in this series - now translated into multiple languages - and more videos from SOTT Media
here
or
here
.
You can help us chronicle the Signs of the Times by sending video suggestions to sott@sott.net