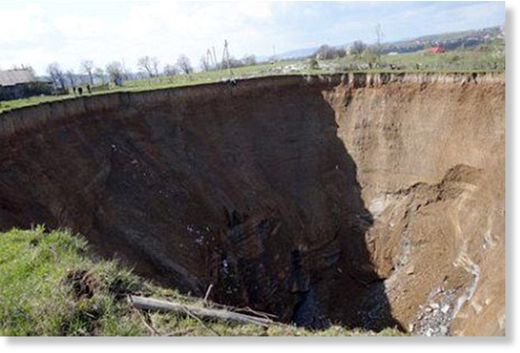 Spanning 100 metres across and some 60 metres deep, this gigantic hole could be a meteor crater.
But it's understood to have been caused by something far closer to home - humble salt.
Terrified residents fear their homes will soon vanish after it suddenly opened up in their Ukrainian village, reportedly swallowing seven houses in the process.
Now they are demanding the government act to either stop the hole getting even bigger or move them to a new, safer location.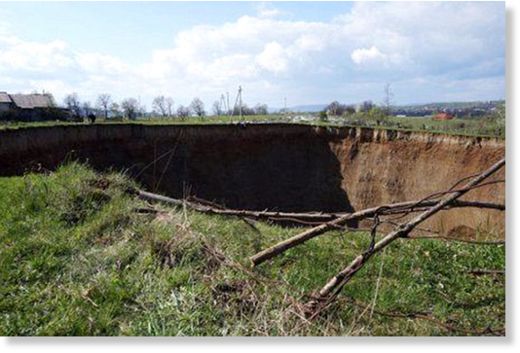 Problems for the village of Solotvino in the Zakarpatska Oblast region of western Ukraine began 220 years ago when the first salt mines started to appear.
When they were closed down, the mine shafts left behind gradually collected water, which in turn has been slowly dissolving the underground rock formations.
The liquidized salty water then drains away, leaving a huge underground cavern which, when it collapses, brings hundreds of thousands of tonnes of earth crashing into vast pits like this one.
Villagers say there are at least five of the holes, although this one pictured is by far the largest.
It is creating what is known as a Karst landscape, formed from the dissolution of soluble rocks including limestone, dolomite and gypsum, and characterised by sinkholes.
Villager Leopold Uvarov, 38, said:
'This huge abyss formed near the village in just a day.
'It was around 60 metres wide and at least 45 metres deep
, but it's growing all the time.'
Another villager, Ivan Prokop, 53, said they noticed the first sinkhole 11 years ago.

He claims it began by taking away roads, some gardens and had then started swallowing houses.
He added: 'The holes are getting closer to other houses all the time.'
He said that the last salt mine was closed in 2007 in Solotvino, but it did not stop the Karst erosion processes.
He said: 'At first, we thought it might just be one hole and it would stop, but it's clear the entire region will eventually sink.
'This abyss isn't the last one we will see. There will be more. The water is gathering in the old mines, the salt deposits are dissolving and our land will continue to vanish.'
Expert Oleksandr Poshtuk, who was employed by the local government to shut down the mines, said that the solution was to fill the tunnels with soil.
But villagers argue that this process had slowed down and then stopped when they realised it would cost around £10million to fill all of the mines take at least seven years.
Teenager Irina Zhygun, 17, said: 'It was really scary to stand on the edge and hear how stones are falling into the void. The reality is our entire village can vanish at any stage.'
Local officials say some two dozen families have already been moved, but 130 families are refusing to leave, saying the new settlement is in an area that has contaminated water and they will be no better off if they agree to the move.
Villager Boris Gedz, 67, a former miner, said: 'I am scared that I will end up falling into the ground as well, but I can't leave my house. My parents, I and my children grew up here.'