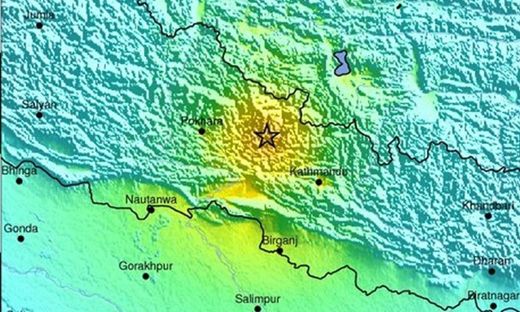 Quake near Kathmandu brought down buildings and was felt in India and Pakistan, according to early reports
A powerful magnitude-7.9 earthquake hit near Nepal's capital of Kathmandu before noon on Saturday, causing extensive damage with toppled walls and collapsed buildings, officials said.
Nepal's information minister, Minendra Rijal, told India's NDTV station that there are reports of damage in and around Kathmandu but no immediate word on casualties. He said rescue teams were on the scene.
The epicentre was50 miles (80km) north-west of Kathmandu, he said. The Kathmandu valley is densely populated with nearly 2.5 million people, with the quality of buildings often poor.
An Associated Press reporter in Kathmandu said a wall in his compound collapsed and there was damage to nearby buildings.
The US Geological Survey revised the magnitude from 7.5 to 7.9 and said the quake hit at 11:56 am local time at a relatively shallow depth of seven miles.
Mohammad Shahab, a resident from Lahore, Pakistan, said he was sitting in his office when the earthquake rocked the city near the border with India.
He said the tremors continued for a while but now the situation was normal. The sustained quake also was felt in India's capital of New Delhi. AP reporters in Indian cities of Lucknow in the north and Patna in the east also reported strong tremors.