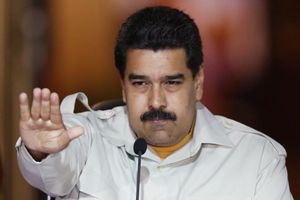 Venezuela on Monday ordered the U.S. embassy in Caracas to reduce staff from 100 to 17 amid the worst diplomatic flare-up between the two ideological foes since socialist President Nicolas Maduro was elected in 2013.
Maduro, who like his predecessor Hugo Chavez frequently locks horns with Washington, has stepped up accusations in recent weeks that the United States is seeking to topple him.
The measures announced in response to alleged coup plotting are the most significant against Washington of Maduro's nearly two-year rule
, though foes say they represent a timeworn tactic to distract Venezuelans from their economic troubles.
"They have 15 days to reduce the size of their embassy to 17 staffers," Foreign Minister Delcy Rodriguez said after a meeting with the U.S. Chargé d'Affaires Lee McClenny, Washington's most senior diplomat in Venezuela.
Maduro has said 100 staffers work at the embassy, an imposing ochre building perched on a hill overlooking Caracas. Venezuela has 17 staffers in Washington, according to Maduro, who says the embassies should be on par.
Maduro over the weekend he announced that
his government had detained U.S. citizens, including a pilot, on suspicion of espionage.
The pilot's identity remains unclear.
Four American missionaries held for questioning for several days have been released.
'BASELESS ACCUSATIONS'
U.S. officials said they had no information about the pilot or information on additional citizens being detained.
Washington has repeatedly denied meddling in Venezuelan affairs. "There has been a lot of anti-American rhetoric coming out of the Venezuelan government with a lot of baseless allegations," said State Department spokeswoman Marie Harf.
"The meeting gave the chargé an opportunity to express our concern about some of the announcements that had been made."
The Venezuelan leader announced the embassy reduction in a thundering speech on Saturday,
when he also read out a "terrorism list" of U.S. politicians, including former U.S. President George W. Bush and New Jersey Senator Bob Menendez, banned from entering Venezuela.
Venezuela is also introducing visa requirements for U.S. citizens, a development Harf said was of particular concern.
Although the United States did endorse a short-lived coup against Chavez in 2002, opposition leaders say the new accusations are a theatrical smokescreen designed to hide a recession, shortages of goods ranging from toilet paper to medicines, and the region's steepest inflation.
Despite the fiery rhetoric, and Venezuela's efforts to diversify to more ideologically aligned nations like China, there has been no talk by Caracas of halting its significant oil exports to the United States.