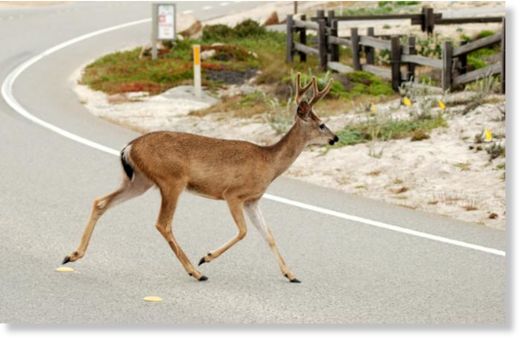 A New York state woman was trapped inside her bedroom when a young buck
crashed through a front window of her home.
Wyoming County Sheriff Deputy Matthew Sage said the Strykersville woman called police at 8 a.m. Monday and reported being woken by the sound of a deer crashing through a front window.
The homeowner locked herself and her Rottweiler in the bedroom to keep them safe from the intruder.
Sage said he arrived at the home to find the buck, which appeared to be about a year and a half old, standing in the woman's living room. He said the woman was on the phone giving him information on where to find a key to the house when the deer jumped back out of the home through another front window.
"He landed in the lawn ... Got his balance. Just trotted off across Main Street and into a field of woods," Sage told
The Buffalo News
.
Sage said the deer may have been confused by his reflection in the window.
"Maybe he thought it was another buck and jumped after it," he said. "This time of year we do deal with a quite a few deer complaints."