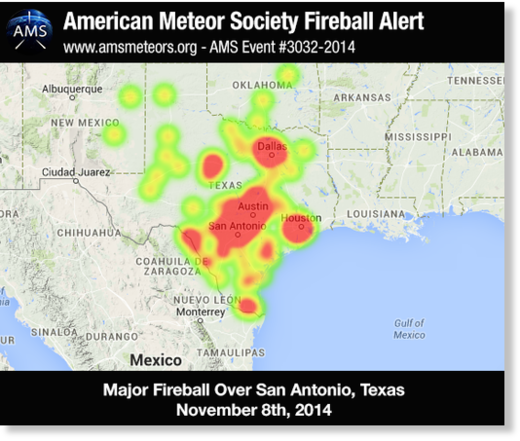 A meteor
five times brighter than a full moon
lit up the skies above Texas over the weekend, officials said Monday. Residents across Texas reported seeing the streaking fireball at around 8:45 p.m. Saturday. The American Meteor Society, a group that tracks fireball sightings, said it had received more than 300 reports from witnesses in the Lone Star State. "This was definitely what we call a 'fireball,' which by definition is a meteor brighter than the planet Venus," Bill Cooke, head of NASA's Meteoroid Environment Office, told CNN. "This was a very bright event." So bright that it was picked up on a NASA camera more than
500 miles away in the New Mexico mountains
, Cooke said, "which makes it
extremely unusual
."
The fireball was caught on camera by a concertgoer at the Fun Fun Fun Fest in Austin.
NASA estimated that the meteor was at least four feet wide and weighed more than 4,000 pounds. While most of the meteor burned up in the sky, it is possible that some of it reached the ground, Cooke said.
Cooke believes the object spotted in Texas may be part of the Taurid meteor shower, which known for producing bright fireballs.Fireballs are not uncommon, and there have been several recent sightings in the United States.
Last week, there were
nearly
400 reports of a fireball witnessed in more than a dozen states
, including Alabama, Virginia, Tennessee and Illinois. In Chicago, Steve Sobel captured footage of a streaking light over the Windy City, where there were at least nine reports from eyewitnesses of the mysterious object.
"I looked up, and I just saw this bright light that looked kind of like a comet or something," Sobel told WGN-TV. "With the naked eye you could see fragments coming off the back of it, like it was something burning up."
In North Carolina, residents of Greensboro, High Point, Asheville, Fayetteville and Raleigh reported seeing a fireball about an hour before Sobel's sighting.
In related falling-from-the-sky news, NASA researchers said this week that small diamonds were found in the fragments of a meteorite that was found in April 2012 near Sutter's Mill, Calif., ground zero of California's Gold Rush.
"The two 10-micron diamond grains we found in this meteorite are too small to sparkle in a ring," Mike Zolensky, a space scientist at NASA's Johnson Space Center in Houston,
told the San Francisco Chronicle
. "But their size is much larger than the nanometer-sized diamonds commonly found in such meteorites."