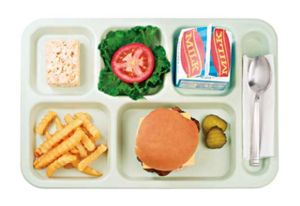 While I understand the need for parents to pay for their children's lunches, what do you think the appropriate response should be by adults running an elementary school upon realizing that some young children with unpaid balances had already been served a full hot meal?
Personally, I would assume that any reasonable human being would allow the children to eat the lunches while at the same time calling up their parents to sort out the problem. However, that's not the action deemed appropriate by the "child-nutrition manager" that visited Uintah Elementary in Salt Lake City this past Tuesday.
Nope, this person decided that the best course of action was to seize already served lunches and throw them in the trash in front of the victim's classmates. Mind you, this person is called a "child-nutrition manager." So someone in charge of "child nutrition" thinks he or she is doing their job by ensuring malnourishment due to unpaid balances.
Next stop for these kids, debtors prison, which are
making a comeback in the U.S.
by the way. Disgraceful.
From the
Salt Lake Tribune
:
Up to 40 kids at Uintah Elementary in Salt Lake City picked up their lunches Tuesday, then watched as the meals were taken and thrown away because of outstanding balances on their accounts - a move that shocked and angered parents.

"It was pretty traumatic and humiliating," said Erica Lukes, whose 11-year-old daughter had her cafeteria lunch taken from her as she stood in line Tuesday at Uintah Elementary School, 1571 E. 1300 South.

Lukes said as far as she knew, she was all paid up. "I think it's despicable," she said. "These are young children that shouldn't be punished or humiliated for something the parents obviously need to clear up."

Jason Olsen, a Salt Lake City District spokesman, said the district's child-nutrition department became aware that Uintah had a large number of students who owed money for lunches.
Better call the FBI, after all, it's not as if there are bankers stealing billions or anything...
As a result, the child-nutrition manager visited the school and decided to withhold lunches to deal with the issue, he said.

But cafeteria workers weren't able to see which children owed money until they had already received lunches, Olsen explained.

The workers then took those lunches from the students and threw them away, he said, because once food is served to one student it can't be served to another.

She said it was a difficult day for her daughter and other kids. She said her daughter told her one of the cafeteria workers cried at the sight. And her daughter's best friend was so upset that she went home Tuesday night and made lunches for all the students who had theirs taken, she said.
On a positive note, at least the children are far more sensible than the adults.
Full article
here
.
In Liberty,
Michael Krieger