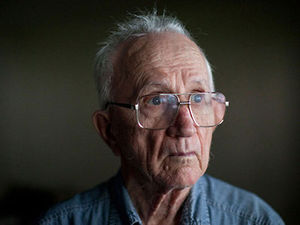 Roman Tritz's memories of the past six decades are blurred by age and delusion. But one thing he remembers clearly is the fight he put up the day the orderlies came for him.
"They got the notion they were going to come to give me a lobotomy," says Mr. Tritz, a World War II bomber pilot. "To hell with them."
The orderlies at the veterans hospital pinned Mr. Tritz to the floor, he recalls. He fought so hard that eventually they gave up. But the orderlies came for him again on Wednesday, July 1, 1953, a few weeks before his 30th birthday.
This time, the doctors got their way.
The U.S. government lobotomized roughly 2,000 mentally ill veterans - and likely hundreds more - during and after World War II, according to a cache of forgotten memos, letters and government reports unearthed by
The Wall Street Journal
. Besieged by psychologically damaged troops returning from the battlefields of North Africa, Europe and the Pacific, the Veterans Administration performed the brain-altering operation on former servicemen it diagnosed as depressives, psychotics and schizophrenics, and occasionally on people identified as homosexuals.
The VA doctors considered themselves conservative in using lobotomy. Nevertheless, desperate for effective psychiatric treatments, they carried out the surgery at VA hospitals spanning the country, from Oregon to Massachusetts, Alabama to South Dakota.
The VA's practice, described in depth here for the first time, sometimes brought veterans relief from their inner demons. Often, however,
the surgery left them little more than overgrown children, unable to care for themselves
.
Many suffered seizures, amnesia and loss of motor skills. Some died from the operation itself.
Mr. Tritz, 90 years old, is one of the few still alive to describe the experience. "It isn't so good up here," he says, rubbing the two shallow divots on the sides of his forehead, bracketing wisps of white hair.
The VA's use of lobotomy, in which doctors severed connections between parts of the brain then thought to control emotions, was known in medical circles in the late 1940s and early 1950s, and is occasionally cited in medical texts. But the VA's practice, never widely publicized, long ago slipped from public view. Even the U.S. Department of Veterans Affairs says it possesses no records detailing the creation and breadth of its lobotomy program.
When told about the program recently, the VA issued a written response: "In the late 1940s and into the 1950s, VA and other physicians throughout the United States and the world debated the utility of lobotomies. The procedure became available to severely ill patients who had not improved with other treatments. Within a few years, the procedure disappeared within VA, and across the United States, as safer and more effective treatments were developed."
Musty files warehoused in the National Archives show VA doctors resorting to brain surgery as they struggled with a vexing question that absorbs America to this day: How best to treat the psychological crises that afflict soldiers returning from combat.
Between April 1, 1947, and Sept. 30, 1950, VA doctors lobotomized 1,464 veterans at 50 hospitals authorized to perform the surgery, according to agency documents rediscovered by the Journal. Scores of records from 22 of those hospitals list another 466 lobotomies performed outside that time period, bringing the total documented operations to 1,930. Gaps in the records suggest that hundreds of additional operations likely took place at other VA facilities. The vast majority of the patients were men, although some female veterans underwent VA lobotomies, as well.
Lobotomies faded from use after the first major antipsychotic drug, Thorazine, hit the market in the mid-1950s, revolutionizing mental-health care.
The forgotten lobotomy files, military records and interviews with veterans' relatives reveal the details of lives gone terribly wrong. There was Joe Brzoza, who was lobotomized four years after surviving artillery barrages on the beaches at Anzio, Italy, and spent his remaining days chain-smoking in VA psychiatric wards. Eugene Kainulainen, whose breakdown during the North African campaign the military attributed partly to a childhood tendency toward "temper tantrums and [being] fussy about food." Melbert Peters, a bomber crewman given two lobotomies - one most likely
performed with a pick-like instrument inserted through his eye sockets.
And Mr. Tritz, the son of a Wisconsin dairy farmer who flew a B-17 Flying Fortress on 34 combat missions over Germany and Nazi-occupied Europe.
"They just wanted to ruin my head, it seemed to me," says Mr. Tritz. "Somebody wanted to."
Counting the patients
A memo gives a partial tally of lobotomized veterans and warns of medical complications. A note about documents:
Yellow highlighting has been added to some documents. The names of patients not mentioned in these articles have been redacted, along with other identifying details. All other marks are original.
The VA documents subvert an article of faith of postwar American mythology: That returning soldiers put down their guns, shed their uniforms and stoically forged ahead into the optimistic 1950s. Mr. Tritz and the mentally ill veterans who shared his fate lived a struggle all but unknown except to the families who still bear lobotomy's scars.
Mr. Tritz is sometimes an unreliable narrator of his life story. He describes himself as "mentally injured, not mentally ill." For decades he has meandered into delusions and paranoid views about government conspiracies.
He speaks lucidly, however, about his wartime service and his lobotomy. Official records and interviews with family members, historians and a fellow airman corroborate much of his story.
It isn't possible to draw a straight line between Mr. Tritz's military service and his mental illness. The record, nonetheless, reveals a man who went to war in good health, experienced the unrelenting stress of aerial combat - Messerschmitts and antiaircraft fire - and returned home to the unrelenting din of imaginary voices in his head.
During eight years as a patient in the VA hospital in Tomah, Wis., Mr. Tritz underwent
28 rounds of electroshock therapy
, a common treatment that sometimes caused convulsions so jarring they broke patients' bones. Medical records show that Mr. Tritz received another routine VA treatment:
insulin-induced temporary comas
, which were thought to relieve symptoms.
To stimulate patients' nerves, hospital staff also commonly sprayed veterans with powerful jets of alternating hot and cold water, the archives show. Mr. Tritz received
66 treatments of high-pressure water sprays called the Scotch Douche and Needle Shower
, his medical records say.
When all else failed, there was lobotomy.
"You couldn't help but have the feeling that the medical community was impotent at that point," says Elliot Valenstein, 89, a World War II veteran and psychiatrist who worked at the Topeka, Kan., VA hospital in the early 1950s. He recalls wards full of soldiers haunted by nightmares and flashbacks. The doctors, he says, "were prone to try anything."
The Lobotomy Files: The Forgotten Soldiers