Rossford, Ohio Police staged a realistic hijacking of a school bus - with children on board - in order to allow a SWAT team to perform an explosion-packed rescue drill. The occupants of the bus were unaware of the details of the drill, for added terror and realism.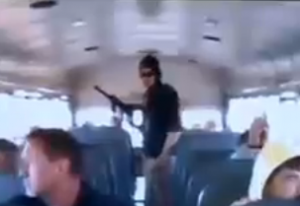 "I didn't know what was going on, because at the start he was just a normal person and then he pulled out a gun and a mask, and put it all on," said teen Justin Klocko to ABC 13 News. "Then he started tying everybody down and it just got really scary."
While the bus was in transit under the control of an armed, mask-wearing hijacker, a large crowd of school teachers and administrators sat in an audience observing the terror through a video feed. The bus ultimately pulled into the parking lot of Owens Center for Emergency Preparedness, where the crowd resided and the SWAT team was prepared to burst in with guns drawn to subdue the hijacker.
"I just do what he says, gotta stay calm," said one young girl riding the school bus.
A concussion grenade exploded as the mask-wearing SWAT team entered the bus to stop the terrorist.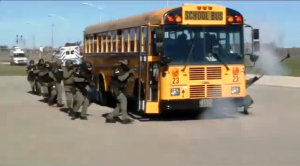 "Every driver, administrator, will take something away from this," said Jeff Culler, the Rossford Schools Transportation Director, to ABC 13 News. He continued, "Wow, this could happen on my bus."
One student claimed the exercise made her feel good knowing that when the real thing does happen, "there are people who will be there to stop it."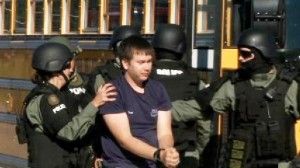 Are drills like these an appropriate measure to keep children safe? Or are they simply a way for a police department to justify having a paramilitary SWAT team, and a way to condition dozens of school staff and children to live in fear of terrorism and acceptance of their government saviors?