A meteorite passed over Cayman's skies Monday night, causing a little alarm and a lot of excitement.
Chris Cook, president of the Astronomical Society, explained that sighting the object, that moved slowly across the sky in a shower of light around 10pm, was unusual, but nothing to be alarmed about.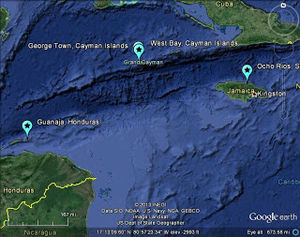 "It was a very small asteroid, a fireball travelling from Honduras, across Cayman to Jamaica, a meteor that broke up. It's not unusual for these things to happen, although it is more unusual actually to see it," Mr. Cook said.
While regular meteor showers are commonplace, he said, this event was "absolutely unpredictable", recalling that people started "waking up" to "near-Earth objects" only a couple of years ago when the massive comet Shoemaker-Levy 9 smashed into Jupiter, the scars of which, apparently, remain visible.

Comment: Small correction: comet Shoemaker-Levy 9 smashed into Jupiter a couple of decades ago. Since then, Jupiter has been hit at least 3 more times by similarly-sized objects, our own Moon has been hit, and tens of thousands of fireballs have been reported all over this planet, including the February 2013 Chelyabinsk blast that sent shockwaves around the world (twice), apparently the largest celestial event we've had since the 1908 Tunguska overhead cometary explosion.


"The odd fireball does come in," he said, "I have seen three or four of these things in my lifetime, the last time probably in March this year. I was lecturing at the university [UCCI] and we all went outside to look at it."
Comment:
The
odd
fireball?! He's either lying or is
very unobservant
for someone whose job it is to watch the stars.
For Albert Forbes Elbert,
the asteroid appeared to be charging down Bodden Town's main street, an intense ball of light that grew brighter and bigger, trailing 300 feet of fire as it passed over his house.
He said
he watched the fireball passing above Mostyn's gas station and explode into hundreds of brilliantly coloured shards.
"It was as low as the mosquito research plane," Mr. Elbert said. "I got frightened, I have to tell you. I called 911 and the police. I was afraid it was going to land on the house behind me."
Apparently, the police didn't take him seriously, disconnecting the call as he sat on the second-floor porch above his Bodden Town Art Shop Monday night.
"When I first saw it, I thought it was the helicopter, and thought 'Oh, that nuisance again'.
The strange thing was that it never made any kind of sonic boom
."
Monday's event elicited excited responses on a meteorite watchers blog, drawing comments from half-a-dozen observers in both Jamaica and Cayman. One witness uploaded a video of the meteorite streaking over the George Town waterfront onto YouTube.
"Tom from Grand Cayman", writing at 10.30pm Monday on the blog, said,
"Ten seconds passing over us, but could see it in the distance for longer. E-W green and red as bright as plane lights. At first, thought it was a plane, four or five of them all travelling in line silent. 4 or 5 meteors all travelling slowly across the sky."
Mr. Cook said he was equally excited: "No one is really sure how many asteroids are out there. This is a pretty rare thing, and provides an opportunity for us to gather information: how long it lasted, what direction it was heading, coming from Honduras and moving northeast."