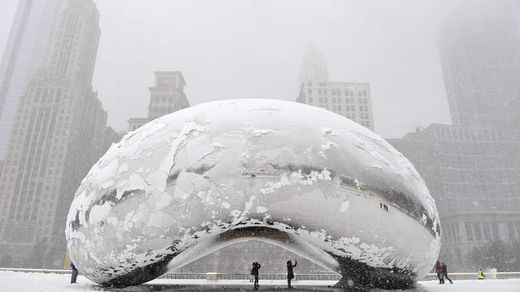 US government offices are closed as the East Coast braces for a blizzard that dumped heavy snow on Midwestern states in recent days.
Schools are shut and more than 1,500 flights cancelled at Washington DC and Baltimore airports, with up to a foot (30cm) of snowfall predicted.
Officials have warned of power cuts in the mid-Atlantic region between New England and the south-eastern states.
On Tuesday, Chicago saw heavy snowfall with about 10in reported in some areas.
On Wednesday morning, wet snow had begun to fall in the Washington DC area, although with temperatures hovering above freezing, little had accumulated on the streets.
Travel warning
Forecasters said the worst of the storm was expected about noon.
Outside the cities, snow has reportedly been falling since about 03:00 local time (08:00 GMT).
As much as 10in (25cm) of snow fell on Chicago on Tuesday
In the state of Maryland, about 600 homes and businesses have already lost power and motorway officials have encouraged residents to keep off the roads.
"We're urging folks not to travel today and to leave the driving to our professional snow plough drivers," a Maryland transport spokeswoman said.
Maryland officials have stationed tow trucks at motorway rest areas and car parks, and tree-trimmers are on standby in anticipation of the storm.
Mid-Atlantic utility companies also have extra repair crews on duty to deal with outages.
In Virginia, as much as 12in of wet snow were forecast to hit coastal areas, while the inland Blue Ridge Mountains and other mountainous areas could receive as much as 21in.
Emergency officials in New Jersey said they were monitoring a coastal storm, expected to bring lashing rain, wind, snow and possibly coastal flooding to the region hit by super-storm Sandy in October.
The last major snowstorm to hit the mid-Atlantic, in January 2011, was dubbed "snowmageddon", dumping about 5in of snow in Washington DC and 7.5in in Baltimore.
It triggered overnight traffic jams and took out power to about 320,000 homes. It is also blamed for causing six deaths.
The snowstorm arrives in the mid-Atlantic region after pummeling Chicago and the Midwest.
On Tuesday, schools were cancelled across Wisconsin, Minnesota and Illinois, and as much as 9in of snow was reported at Chicago's busy O'Hare airport by midnight.