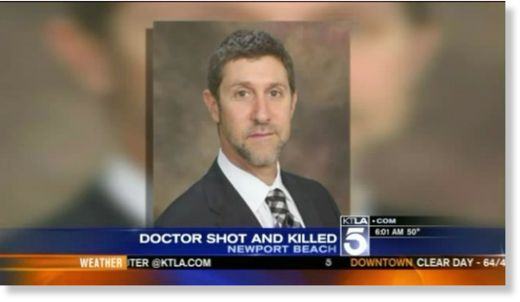 A 75-year-old man has been charged for the murder his doctor, 52-year-old urologist Dr. Ronald Gilbert, in Newport Beach, California.
KTLA
identified
Stanwood Fred Elkus as the person suspected of shooting Gilbert at around 2:45 p.m. on Monday. Elkus had reportedly been receiving treatment for a prostate problem.
According to
The Jewish Press
, Gilbert, who was an orthodox Jew, was shot six or seven times in the torso as he was preparing to perform surgery on Elkus at Hoag Hospital.
"What's going on with the world today?" nephrology laboratory office supervisor Kristen Cotty
remarked
to the
Orange Country Register
. "I mean, schools, now I got to worry about going to work. This has got to stop."
Gerry Crews, a childhood friend of Gilbert's, called the doctor "one of the most caring, giving, generous people I knew... I doubt you would find anyone who would say anything bad about him."
A quick search revealed a
plethora of bad reviews
from purported former - but anonymous - patients, blasting Gilbert for everything from long wait times to inappropriate leers. Raw Story was unable to confirm their veracity by press time.
"Dr. Gilbert should be barred from practicing madicine," one patient wrote in 2009. "This guys is insensitive animal, not a caring doctor. The day he diagnozed my prostate cancer six years ago, he gestured with the motion of cutting his neck, signalling I am a dead man. Well, I am cured of PC under another doctors care. Gilbert is always rushing, snap in his judgement, make errors, make customers mad... Newport Beach will be much better off without this man."
"This Dr. is a menace," another patient wrote in 2007. "He grossly misdiagnosed my bladder cancer and could have cost me my life if I had not sought a second opinion."
Arrest records said that Elkus worked as a barber. He was being held on $1 million bail. Police were still trying to determine a motive for the shooting.