Buenos Aires, Argentina - Two people were killed in Argentina as looters ransacked supermarkets in several cities, officials said Friday.
Santa Fe Province Security Minister Raul Lamberto said the incidents were not triggered by social protests but were simple acts of vandalism.
Lamberto said two people were killed by a sharp object and gunfire after attacks early Friday on about 20 supermarkets in the cities of Rosario and Villa Gobernador Galvez. He declined to name the victims or the attackers but said 25 people were injured and 130 arrested during the looting about 190 miles northeast of Buenos Aires.
It followed a wave of sporadic looting that began Thursday when dozens broke into a supermarket and carried away televisions and other electronics in the Patagonian ski resort of Bariloche. The government responded by deploying 400 hundred military police to the southern city.
The disturbances evoked harrowing memories of Argentina's worst economic crisis a decade ago, when President Fernando de la Rua resigned after days of rioting and looting that left dozens dead and scores of protesters injured throughout the country.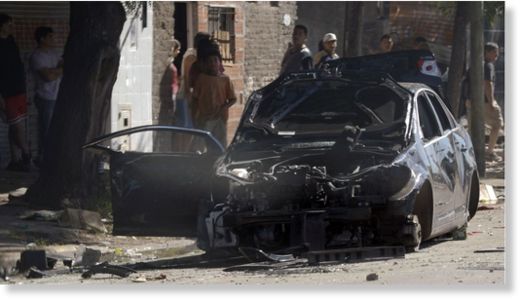 National Security Secretariat Sergio Berni and Cabinet Chief Juan Abal Medina said this week's looting in at least six Argentine towns was the act of "vandals" instigated by unionists.
"All that people cared about was breaking into shopping malls and taking the LCD's and stereos," He added that, although Argentina still has poverty, it is nowhere "like the Argentina of 2001," when jobless people stormed supermarkets, shops and kiosks.
Thousands of people marched in front of the presidential palace earlier this week demanding pay raises and a solution to Argentina's spiraling inflation.
The demonstration was called by Hugo Moyano, the head of the powerful General Labor Confederation union, who was once a close ally of President Cristina Fernandez but who turned against her and is now one of her fiercest critics.
"There's a reality that shows that people are not going through a good time," Moyano told local Radio Mitre. "We see it in the capital when the government handles this situation as if we were living the best year in Swiss history but when you see people living underneath highways."
President Cristina Fernandez was re-elected with 54 per cent of the vote last year, but her popularity has declined since she began digging ever deeper into the pocketbooks of the middle and upper classes to fund populist policies.
With inflation soaring at about 25 per cent a year, Argentines have sought to change their pesos for dollars, but the government has cracked down on such trades and made it nearly impossible to obtain dollars legally.
Most Argentines surveyed in polls say they're most worried by a rise in crime and consumer prices and the stiff currency controls.
Source: The Associated Press