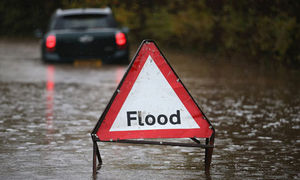 Met Office warns of severe weather in south-west England, West Midlands, Wales and a much of Scotland, with 70mph winds
Householders, business people and motorists have been warned to prepare for flooding, gale-force winds and terrible driving conditions as another band of wet weather sweeps across the UK.
Up to 60mm (2.35in) of rain is expected to pound down within a few hours on to ground that is already sodden or flooded, and into rivers swollen by the autumn showers.
The Met Office issued severe weather warnings for south-west England, the West Midlands, the whole of Wales and a good deal of Scotland, and said winds of up to 70mph could add to the misery.
Bob Wilderspin, the Met Office chief forecaster, said: "The current unsettled spell of weather is set to continue, with further spells of heavy rain expected across the country over the next few days.
"A particularly squally day is expected on Thursday as strong-to gale-force winds combine with heavy rain moving in from the west. With winds gusting up to 60mph to 70mph in places and 20mm to 50mm of rain falling in a short period of time, we urge everyone to be prepared for what the weather will bring."
The number of flood warnings - meaning flooding is expected - issued by the Environment Agency climbed steadily throughout Wednesday after up to 30mm of rain fell in a few hours. By nightfall, it had reached 80, almost all in the south-west and the Midlands, where many roads were closed. Some motorists who tried to get through the floodwater found themselves stranded and had to be rescued.
The AA said that by 4pm it had attended 4,000 breakdowns, almost 40% more than normal. Schools were also closed, and the main train line between Devon and Bristol was disrupted. Firefighters had to wade through water to reach a woman when she went into labour in the Chew Valley, in Somerset. They got her into an ambulance and she was taken safely to hospital in Bath. In Devon a fire crew had to go the aid of two people who had become stuck when they tried to rescue stranded cattle.
Away from the south-west of England, heavy winds caused disruption at the port of Dover, in Kent, where ferry crossings were delayed.
Environment Agency teams were working overnight, battling against the rising water. Alison Baptiste, Environment Agency flood risk manager, said: "We also ask that people stay safe, by staying away from swollen rivers and not attempting to drive through floodwater.
"Environment Agency teams have been mobilised across the country to check on flood defences, clear any river blockages and closely monitor river levels. These teams work around the clock to reduce the risk of flooding, and will be out in force over the coming days."