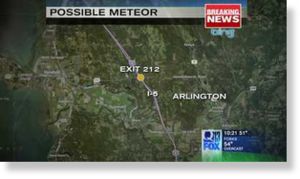 A ball of fire, a possible meteor, was seen falling out of the sky over the Seattle area Wednesday night, authorities said. Residents north of Seattle, off Interstate 5's Exit 212 near Arlington, saw something coming apart in the sky, police and the Washington State Patrol said.
No planes were reported missing, and nothing was found by police.
"We are clearing the scene and assuming it is a meteor, unless we hear otherwise," the Snohomish County Sheriff's Office said in a tweet.
On the Q13 FOX News Facebook page, Aaaron Porcaro wrote, "I saw it in south Seattle. It was super big and bright!!! It was traveling from the southwest to the northeast."
"We saw it trick-or-treating in Renton!" wrote Sandra Jean Feaser, referring to the southern suburb of Renton.
"Told you I wasn't seeing things," wrote Stacey Schwartfigure.
A viewer, Monica Jeffries, wrote this to the Q13 FOX News tips line:
"While on I-5 northbound at around the Kent Des Moines exit - I was on my way to the airport - I saw to my right a big ball/bright light fall from the sky. At first I thought it was a plane falling down so I became really concerned and was waiting for the big impact or explosion and then to my surprise this big light presented some sort of a 'tail' and then just like that it turned into a big greenish ball and then it disappeared.
"Anyway, this jus in case you receive anymore sightings from somebody else. Otherwise I guess I must be crazy and now I'm seeing weird things falling from the sky. Hahaha Thanks!"
Sightings were also reported from people in the Gig Harbor and Orting areas, closer to Tacoma.