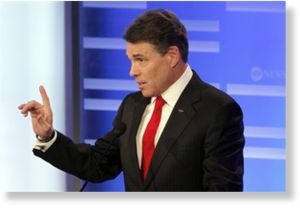 Rick Perry endorsed deploying American forces to Iraq again in Saturday night's GOP debate, saying that the United States cannot afford to "allow the Iranians to come back into Iraq and take over that country."
The Texas governor accused President Barack Obama of cutting and running from the conflict in Iraq too early, in order to placate Democrats.
"This president wants to kowtow to his liberal, leftist base and move out those men and women," Perry said. "He could have renegotiated that time frame."
Perry's fellow Republicans declined to join him in calling for a return of U.S. troops to Iraqi soil.