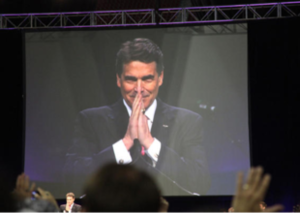 The New Apostolic Reformation seeks dominion over society and government -- and it looks like Perry is their chosen candidate.
Since he announced his candidacy on Saturday, Texas Governor Rick Perry has been hailed as the great GOP hope of 2012. Perry's entry into the chaotic Republican primary race has excited the establishment in part because he does not have Michele Bachmann's reputation for religious zealotry, yet can likely count on the support of the Religious Right.
Another advantage for Perry is support from an extensive 50-state "prayer warrior" network, organized by the New Apostolic Reformation. A religious-political movement whose leaders call themselves apostles and prophets, NAR shares its agenda for control of society and government with other "dominionists," but has a distinctly different theology than other groups in the Religious Right. They have their roots in Pentecostalism (though their theology has been denounced as a heresy by Pentecostal denominations in the past). The movement is controversial, even inside conservative evangelical circles.
Nevertheless, Perry took the gamble that NAR could help him win the primaries, a testament to the power of the apostles' 50-state prayer warrior network.
While it may not have been obvious to those outside the movement, Perry was publicly anointed as the apostles' candidate for president in his massive prayer rally a few weeks ago, an event filled with symbolism and coded messages. This was live-streamed to churches across the nation and on God TV, a Jerusalem-based evangelical network.
There's little doubt that Perry is NAR's candidate -- its chosen vehicle to advance the stated agenda of taking "dominion" over earthly institutions.
The Prayer Warriors and Politics
Perry's event is not the first time NAR apostles have partnered with politicians. (See previous AlterNet articles by
Paul Rosenberg
and
Bill Berkowitz
.) Alaskan Apostle Mary Glazier claimed Sarah Palin was in her prayer network since she was 24 years old and Glazier continued to have contact with Palin through the 2008 election. Prior to running for governor, Palin was "anointed" at Wasilla Assembly of God by Kenyan Apostle Thomas Muthee, a star in promotional media for the movement. The Wasilla congregation is part of a Pentecostal denomination, but it's leadership had embraced NAR's controversial ideology years before and has hosted many internationally known apostles.
A partial list of those who have made nationally or internationally broadcast appearances with apostles includes Sam Brownback, Newt Gingrich, Mike Huckabee, Michele Bachmann, and Jim DeMint. Numerous others, including Rick Santorum, have participated in less publicized apostle-led events.
The list of state and local candidates partnering with the apostles' network includes Hawaii gubernatorial candidates James "Duke" Aiona, a Republican, and Mufi Hannemann, a Democrat. The conference call that got U.S. Senate candidate Katherine Harris in hot water with Jewish voters back in 2006, was led by Apostle Ken Malone, head of the Florida prayer warrior network. Apostle Kimberly Daniels recently won a seat on the Jacksonville, Florida city council -- as a Democrat.
Why would Rick Perry take the risk of partnering with such a controversial movement? The apostles' statewide "prayer warrior" networks link people and ministries online and also includes conferences, events, and training. Many of the ministries involved have extensive media capabilities. The "prophets" of the NAR claim to be continuously receiving direct revelation from God and these messages and visions are broadcast to the prayer warriors through various media outlets. For instance, in the 2008 election, prophesies concerning Sarah Palin, including one from Mary Glazier, were sent out to the prayer warrior networks. Palin repeatedly thanked her prayer warriors during and after the election.
The prayer warrior networks could work as an additional arm for Perry's campaign in early primary states. South Carolina's network is led by Frank Seignious, a former episcopal priest who joined the movement and was ordained into "apostolic ministry" by Apostle Chuck Pierce of Texas. Seignious has incorporated the spiritual warfare and prayer network under the name
Taking the Land
. His network is under the "apostolic authority" of the Reformation Prayer Alliance of
Apostle Cindy Jacobs
and the Heartland Apostolic Prayer Network, led by Apostle
John Benefiel
. Both Jacobs and Benefiel endorsed Rick Perry's prayer event.
Jacobs announced in March that the movement hopes to mobilize 500,000 prayer warriors or intercessors to "prayer for the nation for the 2012 elections to shift this nation into righteousness and justice." She made this statement while speaking at Alaska's Wasilla Assembly of God, the church where Sarah Palin was anointed by Thomas Muthee in 2005.
Ideology of the New Apostolic Reformation
The leaders of the movement claim this is the most significant change in Protestantism since Martin Luther and the Reformation. NAR's stated goal is to eradicate denominations and to form a single unified church that will fight and be victorious against "evil" in the end times. Like many American fundamentalists, the apostles teach that the end times are imminent, but unlike most fundamentalists, the apostles see this as a time of great triumph for the church.
Instead of escaping to heaven in the Rapture prior to the battles of the end times, the apostles teach that believers will remain on earth. And instead of watching from the grandstands of heaven as Jesus and his warriors destroy evil, the apostles believe they and their followers will fight and purge the earth of evil themselves.
This includes taking "dominion" over all sectors of society and government, which, in turn, will lead to a "Kingdom" on earth, a Christian utopia ruled from Jerusalem. The end times narrative of the apostles is similar to that of the Latter Rain movement of the late 1940s and 1950s, which was considered heretical by traditional Pentecostal denominations.
Prerequisites to bringing about the Kingdom on earth are: the restructuring of all Charismatic evangelical believers under the authority of their network of apostles and prophets; the eradication or unification of Christian denominations; and the total elimination of competing religions and philosophies. Their mandate to take control over institutions of society and government is similar to the dominionism of Christian Reconstructionism, founded by the late Rousas Rushdoony, but NAR's version has been wrapped in a much more appealing package and marketed as activism to "transform" communities.
The apostles have a number of sophisticated promotional tools used to market their agenda for taking control over society, including the
Transformations
movies, Transformation organizations in communities around the country, and the Seven Mountains campaign. The latter is about taking control over the mountains or "power centers" of arts and entertainment, business, education, family, government, media and religion. The apostles who lead in areas outside of church are called
Workplace or Marketplace Apostles
.
The apostles teach that the obstacles to their envisioned Kingdom on earth are demonic beings who hold control over geographic territory and specific "people groups." They claim these demons are the reason why people of other religions refuse to become evangelized. These demons, which the apostles address by name, are also claimed to be the source of crime, corruption, illness, poverty, and homosexuality. The eradication of social ills, as claimed in the Transformations media, can only take place through mass evangelization; not through other human efforts to cure societal ills. This message was repeated throughout Perry's prayer event, although it may not have been apparent to those unfamiliar with the movement's lingo and narratives.
The apostles teach that their followers are currently receiving an outpouring of supernatural powers to help them fight these demons through what they call
Strategic Level Spiritual Warfare
(SLSW). They have held ceremonies to "divorce Baal" and claim to
burn
and otherwise destroy icons and artifacts of other religious belief systems. These unique SLSW concepts and methodologies, previously unknown in the evangelical world, include
spiritual mapping
to identify and purge both demons and their human helpers. The humans are often identified in training materials as witches and their activities as witchcraft.
Many of the evangelical "Reconciliation" programs popularized over the last decade are an outgrowth of the apostles' SLSW efforts to remove demons, including "generational curses," which they claim obstruct the evangelization of specific racial and ethnic groups. These activities have political significance not apparent to outsiders. Kansas Governor and former Senator
Sam Brownback worked extensively
with leading apostles in pursuing an official apology from the U.S. Senate to Native Americans. However, NAR has promoted this apology as part of
Identificational Repentance and Reconciliation
, an SLSW method to remove demonic control over Native Americans and evangelize tribes. Curiously, this apology is also viewed as a required step in their spiritual warfare agenda to criminalize abortion.
Apostle Alice Patterson and Pastor C. L. Jackson
stood with Rick Perry
as he addressed the audience at his Houston prayer rally. This went unnoticed by members of the press, but sent a strong message to those familiar with Patterson and Jackson's activities in convincing African American pastors in Texas to leave the Democratic Party and become Republicans. This is done by outreach to African Americans through "reconciliation" ceremonies. They also utilize David Barton's revisionist American history, which ties Democrats to racism and civil rights to conservatives and Republicans. Patterson has written that there is a "demonic structure behind the Democratic Party."
History of the New Apostolic Reformation
A wave of religious fervor swept through the U.S. in the early 1900s resulting in Pentecostalism and the establishment of denominations emphasizing supernatural "gifts of the Holy Spirit," including speaking in tongues. A second wave swept through other Protestant denominations and Roman Catholicism beginning in the 1960s, producing pockets of Charismatic believers. ("Charismatic" is usually used to describe those who embrace the belief of supernatural gifts of the Holy Spirit but are not in Pentecostal denominations.)
Some remained in their respective churches while the remainder left to join other nondenominational Charismatics in what would become the largest single (and largely overlooked) block of Protestantism in the world -- Independent Charismatics, also called neo-Pentecostals or the "Third Wave." By the late 1980s, Independent Charismatics began to be networked under the leadership of self-appointed apostles and prophets who view the reorganization of the church as crucial to preparation for the end times. C. Peter Wagner, a prolific author and professor for 30 years at Fuller Theological Seminary, became the primary force behind organizing one of the largest and most influential of apostolic and prophetic networks. He dubbed it the "New Apostolic Reformation" (NAR).
Wagner and other NAR pioneers refined their unique Strategic Level Spiritual Warfare training and demon-hunting methods through the latter 1980s and 1990s. Due to Wagner's international reputation as an expert in "Church Growth" (his most famous pupil is
Rick Warren
) and Wagner's leadership role in the frantic rush by international missions to evangelize the world prior to the year 2000, these unusual techniques gained surprisingly widespread acceptance in some evangelical circles.
Wagner had a major role through the 1990s in the Billy Graham-endorsed AD 2000 and Beyond, working closely with Youth With A Mission (YWAM) and Independent Charismatic groups in what they would dub as the "world prayer movement." Ted Haggard, who would later become president of the National Association of Evangelicals, claimed that the effort involved 40 million people worldwide. As 2000 AD and Beyond was winding down in the late 1990s, Wagner left Fuller Seminary and resettled in Colorado Springs. Wagner partnered with Haggard and continued his international networking from the World Prayer Center adjacent to Haggard's mega-church.
Wagner claimed that the New Apostolic Reformation, a new era in church history, began in 2001 and organized several hundred apostles with their own networks into the International Coalition of Apostles (ICA). In addition, Wagner oversaw: an inner circle of prophets (ACPE or Apostolic Council of Prophetic Elders); demon deliverance experts (ISDM or International Society of Deliverance Ministries); faith-healers (IAHR or International Association of Healing Room Ministries); an international training network (Wagner Leadership Institute); and their own educational accreditation system (ACEA or Apostolic Council for Educational Accountability, now called the Association of Christian Educators and Administrators).
Transformation is the movement's buzzword for taking control over communities. The Transformation entities usually begin as prayer networks of pastors and individuals that are advertised as nonsectarian. Charitable activities are emphasized as a way to gain a foothold in financially strapped municipalities and they provide faith-based services from emergency response to juvenile rehabiliation. Today NAR has "prayer warrior" networks under the authority of their apostles in all 50 states, some now organizing by precincts.
The movement has had a widespread impact, spreading ideology to other Charismatics inside Mainline Protestant denominations and Roman Catholicism, although non-Charismatic Roman Catholicism is viewed as controlled by a
powerful demon named "The Queen of Heaven
." Over the last few years, the apostles have taken visible leadership roles in the Religious Right in the United States and numerous nations in Africa, Asia, and South America and claim
Uganda
as their greatest "Transformations" success story and
prototype
.
After years of political activity and increasing power inside the American Religious Right, NAR has suddenly been propelled into national press coverage by presidential candidate Rick Perry and his supposedly nonpartisan and nonpolitical prayer rally. Now that he has been chosen and anointed by the movement's apostles, the prayer warriors across the nation can be mobilized on his behalf.
A version of this piece appeared on Talk to Action.