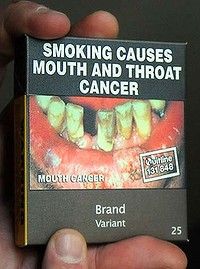 The tobacco industry's multimillion-dollar campaign against the federal government's plain-packaging measures comes amid
evidence of a growing distaste worldwide
for smoking.
A World Health Organisation report issued yesterday on the ''global tobacco epidemic'' finds that more than half the world's population, or 3.8 billion people, live in countries with at least some form of anti-smoking measure such as health warnings on cigarette packs, cigarette taxes or anti-tobacco media campaigns.
There are 425 million people in 19 countries - about 6 per cent of the world's population - where bans on tobacco marketing are in place, the report says. Nearly all of those people are on low or middle incomes.
WHO says the tobacco epidemic continues to expand because of tobacco marketing, population growth in countries where tobacco use is increasing and the ''extreme addictiveness'' of nicotine.
''If current trends continue, by 2030 tobacco will kill more than 8 million people worldwide each year, with 80 per cent of these premature deaths among people living in low- and middle-income countries,'' the report says.
The drive against smoking ranges from videos in India showing patients who have had radical surgery to their mouth and throat as a result of cancer caused by chewing tobacco to images in Uruguay of mouth cancer, which cover most of the tobacco packaging and make Australia's warning images seem tame.
In contrast to Australia's disease-dominated campaign messages, the Uruguay campaign also focuses on a social evil: ''You smoke, you stink. Smoking causes bad breath, tooth staining and unpleasant smell.''