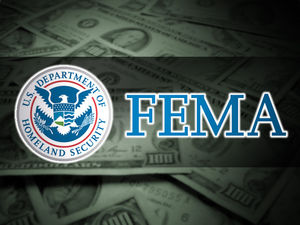 Kimmy Jordan has spent the last four years recovering from the tornado that claimed his home and battling a kidney condition that has left him on a list of patients in need of a transplant.
Now, the same federal agency that helped Jordan and his family members get back on their feet is asking for its money back.
According to the Associated Press, Jordan is one of more than
5,000 Americans who have been sent letters by the Federal Emergency Management Agency requiring repayment of financial assistance offered
them during disasters dating back as far as 2005.
"I thought they were there to help people, not hurt them," said Jordan, who shared a home with his wife and five children at the time of the tornado in March 2007. "We stayed homeless for a year and a half (after the tornado). I had to work and save to get us a new home. We used FEMA money and what little was left over from insurance, and it took about all of it for debris removal. We're stuck now with a high mortgage payment. We're barely getting by, and now they're asking for money we can't pay back."
For their part, FEMA representatives say their hands are tied by U.S. law.
"FEMA, along with other federal agencies government-wide, has long been legally required by Congress to identify any cases in which federal assistance may have been improperly distributed and to recover those funds, even in cases of human error or mistake," said Rachel Racusen, FEMA spokeswoman. "We are committed to serving disaster survivors and communities as effectively as possible while being responsible stewards of taxpayer dollars."
In its letter to Jordan, FEMA stated it was collecting the money because "the amount of (Jordan's) insurance settlement is greater than the amount of FEMA assistance (he) already received or the damage FEMA provided assistance for were (sic) covered by (his) insurance settlement."
"FEMA's assistance is limited to repair of essential disaster-related damage," the letter further states.
While Jordan questioned FEMA's letter coming four years after the money was given, Racusen said the delay was due to an agency overhaul.
"In 2007, as a result of a lawsuit filed under the previous administration, FEMA's recoupment efforts were suspended," she said. "Since then, FEMA has made key improvements to the recoupment process so that it is fair, easy to understand for disaster survivors, and includes ample opportunities for survivors to appeal FEMA decisions. As required by law, we are now using this improved system to notify individuals that may have received improper payments. Under our current leadership, strong protections have been put in place to greatly reduce the error rate of improper disaster payments."
U.S. Sen. Mark Pryor, D-Arkansas, proposed a bill last week to the Senate Homeland Security and Governmental Affairs Committee that would allow FEMA the ability to waive all debts associated with the agency's own errors, but the bill has yet to pass the committee.
Jordan's letter requests the entirety of $7,100 be repaid within 30 days, but Racusen said Jordan can file an appeal, request a payment plan or seek a hardship waiver.
Those options are of little consolation to Jordan.
"
When somebody loses everything they've got, (FEMA) wants to come take what they worked for and put them back where they started
, and I don't think it's right," he said. "That's not what it means to help somebody. If I'd known they'd ask for it back, I'd have never asked them for help."