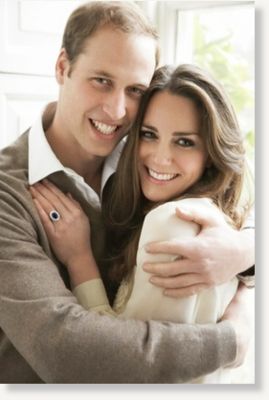 Many parties not for nuptials
When Prince William marries Catherine Middleton, all Britons should be celebrating, or so says Prime Minister David Cameron, who has been working hard to whip up public enthusiasm for the extravaganza.
Setting an example, the Camerons are planning to throw their own party on Downing Street - after they have attended the wedding and reception, of course.
"My message to everyone who wants to have a street party is: I'm having one, and I want you to go ahead and have one, too," he said.
But the majority of Britons are not listening.
Although about 4,000 street parties will take place Friday across the United Kingdom, one-third of local councils have not received a single application for such a fest. An ICM Research poll commissioned by the anti-monarchy group Republic found that four out of five Britons are "largely indifferent" or "couldn't care less" about the royal wedding.
"This should be a wake-up call for the BBC, government and the palace, all of whom have been vastly - and deliberately - exaggerating the public's enthusiasm for the wedding in recent weeks," said Graham Smith, campaign manager for Republic. "It's time to get some perspective - most people simply don't care."
Some Londoners definitely agree.
"I'm very unexcited," said Hattie Deards, 35, out for a stroll in West London. "In my group of friends, we've never even talked about it."
So while enthusiastic monarchists prepare for Friday's royal nuptials by hanging bunting, baking cakes and stocking up on beer, others are planning their escapes - or anti-wedding parties.
About 18 percent of Britons plan to flee the country, according to a survey by CitySocialising. Others will flock to London, not to watch the wedding but to protest all it represents.
When so many here are suffering as a result of the bleak economy and harsh budget cuts, it seems to some a rather bad time for the royal family to be flaunting wealth and privilege.
Republic, which wants an elected head of state, says it will hold an alternative street party in Red Lion Square.
"We want to get people to look at the royal wedding as a PR event staged by a political institution," said Mr. Smith. "And to challenge some of the hype."
Republic's "Not the Royal Wedding" street party will be "an ironic take on a traditional street party," with flags, food, children's entertainment and a live jazz band, Mr. Smith said.
Attendees can buy "I'm not a royal wedding mug" mugs and sign a card for Kate and William that wishes the couple luck but cautions: "Don't plan to be king and queen because we are going to push for elections."
The Government of the Dead, an anti-government street theater group, also plans to make its own fun on Friday. It will perform a parody of the royal wedding as zombies, stage a fertility rite and behead an effigy of Prince Andrew with a guillotine.
(Prince Andrew has drawn particular ire for his friendship with convicted sex offender and billionaire Jeffrey Epstein and his coziness with the Saudis, who recently helped Bahrain violently quash pro-democracy protests, among other things.)
"It's not a protest," insisted Chris Knight, a Marxist anthropologist and theater group member. "It's a performance. We're paying for this party, as taxpayers, so it's our party. We all have a right to enjoy ourselves in the way we feel appropriate."
The zombies are meant to parody unquestioning obedience to the crown. "There is a feeling that people waving Union Jacks mindlessly are already zombies," Mr. Knight said.
The fertility rite is a response to the police's announcement that they would be creating a "sterile" area around Westminster Abbey to protect the bride and groom. "You want fecundity at a wedding, not sterility," Mr. Knight said.
The Government of the Dead is far from the only group planning to take advantage of the cameras trained on Westminster.
Muslims Against Crusades (MAC), which equates the reign of Queen Elizabeth II with that of Libyan dictator Moammar Gadhafi, plans to stage a protest to decry British military actions in Afghanistan, Libya and Iraq, spokesman Anjem Choudary said.
Police have sought to ban this protest, citing security concerns, though they are considering allowing it to take place farther from the wedding.
"How is it that when weddings are bombed in Iraq and Pakistan, no one bats an eyelid?" Mr. Choudary said. "But when we want to protest at a wedding, they find it unpalatable."
Worried that MAC will disrupt the day, the English Defence League, which opposes the spread of Islamic extremism in Britain, also plans to show up in force. They want to block subway entrances near Westminster to keep the Muslim group from emerging.
"We don't want to be doing this," said the league's leader, Tommy Robinson. "At the same time, we want to protect the people who want to celebrate. The wedding is a chance for us to come together and celebrate being British."
All of the protests and counterprotests are keeping New Scotland Yard on its toes. It already has begun searching the wedding route for explosives and other security threats. About 5,000 officers will be on duty Friday.
"If anyone comes to London on the day of the royal wedding intending to commit criminal acts, we will act quickly, robustly and decisively," Assistant Commissioner Lynne Owens said.
Prince William's spokesman said the palace had no reaction to the protests or message for the protesters. "We consider it completely a matter for the police, who have tried and tested experience policing large royal occasions," he said. "We are looking forward to enjoying the day."
In spite of the protests, so are many others.
"Everyone will celebrate," said Kenneth Banks, drinking at the REbar in Shepherd's Bush, already decked out in strings of Union Jacks. "It's a public holiday, isn't it?"