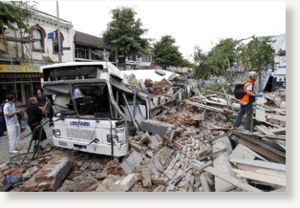 Power has been fully restored to about 20,000 homes and business after a
5.2-magnitude aftershock
rocked quake-devastated Christchurch.
New Zealand's second largest city remains devastated following a 6.3-magnitude earthquake in February which claimed 181 lives, and followed a stronger, but less destructive 7.1 quake last September.
The latest tremor hit at 5:49pm (local time) and was centred 16 kilometres west of the city at a depth of nine kilometres, the US Geological Survey said.
Power was cut in several areas of the city, but Roger Sutton, chief executive of power company Orion, said this was because the substations had automatically shut down when the quake hit.
A burst water main and a fallen powerline was reported and some traffic lights were also out.
Rocks had fallen in the suburbs of Sumner and Redcliffs and there had been reports of liquefaction and flooding in eastern suburbs.
A major building in the city centre, the Strategy building in Victoria Street tilted during the tremor and several nearby roads were closed to the public.
Civil Defence also said a number of roads had been damaged.
They asked people to check on their neighbours and be wary of falling debris.